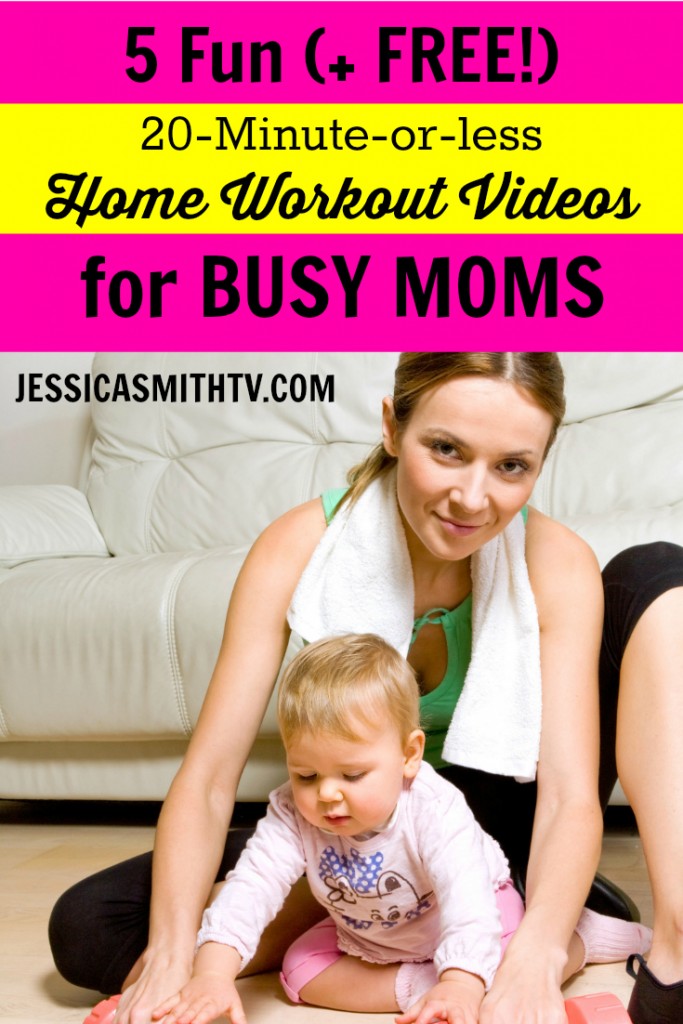 Moms, we know you are busy and life is hectic, but with these free workout videos you DO have time to squeeze in a sweat session at home!
Whether you have 20, 10 or even just 5-minutes to spare, these 5 fun workouts will help you fit in fitness in whenever and wherever you can!
Forget the treadmill! Amp up your cardio routine with this fat blasting, metabolism boosting workout that is easy to do at home in a small space with no equipment (both high and low impact options provided).
Get firm, flat abs without doing a single crunch! If you've been trying hard to recover your abs after baby, this ab-focused strength session that doesn't require a single crunch may be just what you need!
Blast off 150-calories (or more) and burn fat faster with this high intensity interval training (HIIT) cardio workout that takes less than 12 minutes to complete!  This effective and efficient fat blasting cardio workout is burpee and squat thrust free — and both low and high impact options are provided for all levels.
Get more bang for your workout buck with this express routine! This short but effective total body workout uses a pair of dumbbells to rev up your metabolism and sculpt your muscles in less than 8 minutes. Throw that "I have no time to exercise" excuse out the window and squeeze this workout in anytime you are short on time.
Don't forget to stretch! Even when you are short on time, flexibility is so important to fitness and feeling good. This 5-Minute total body stretching session will help you feel better – fast. And be sure to check out our entire 5-Minute Fix series for additional cardio and strength workouts you can do in just 5 minutes flat.