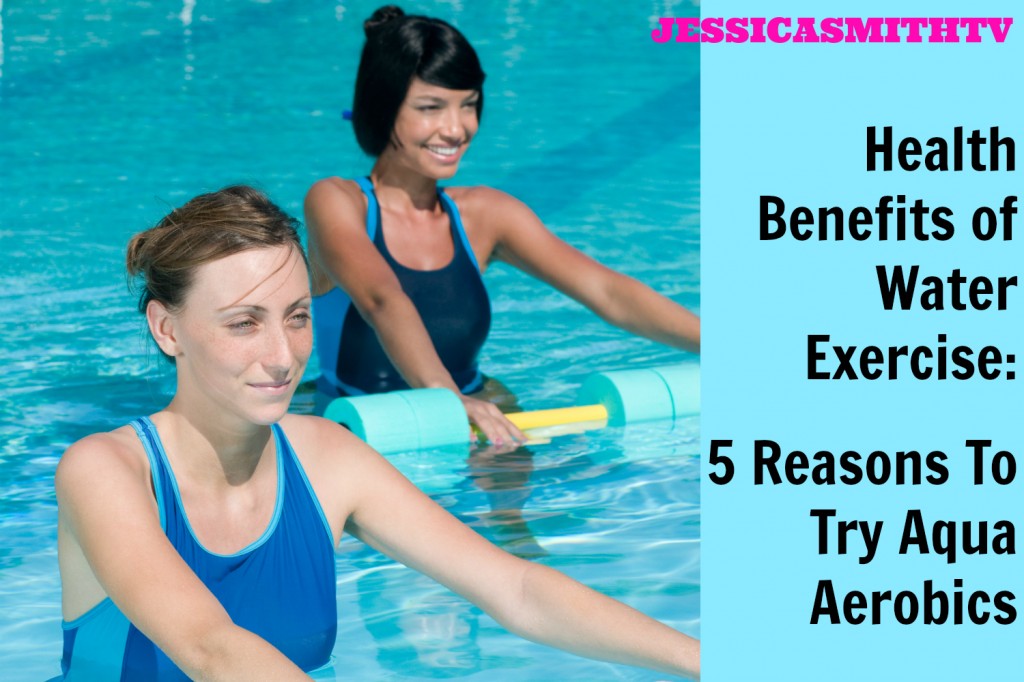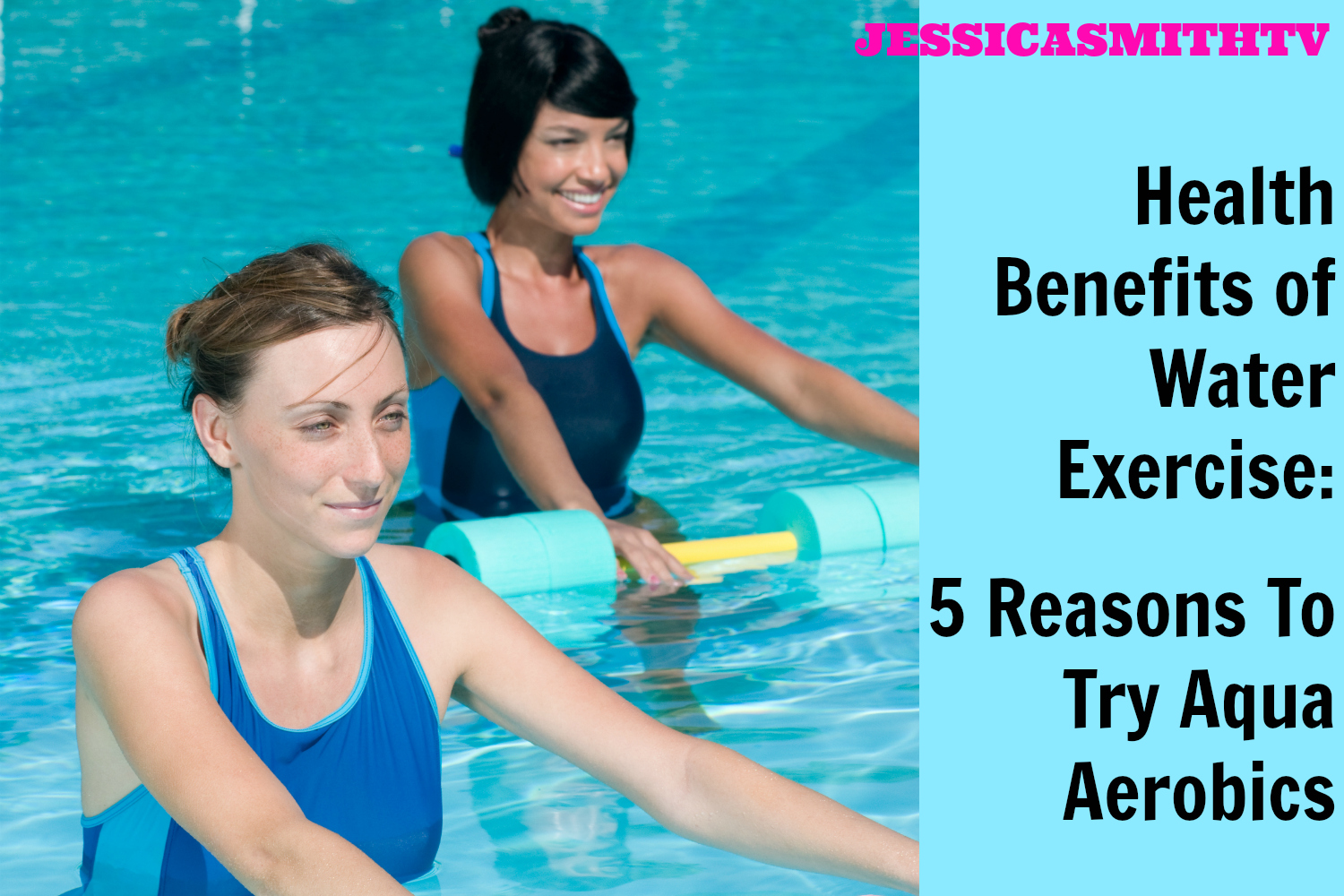 As an aqua instructor myself, I love exercising in the water and have seen firsthand how rehabilitative aquatic exercise can be for those with injuries or joint limitations. I also know that aqua exercise can be very challenging and just as much of an intense workout as anything on land — sometimes even more so! That's why I am so excited to share this guest post by author Becky Flanigan about some of the amazing benefits of water exercise. If you haven't tried it yet, why wait? Jump on in! – Jessica
Guest Post by Becky Flanigan
When I was younger, I was into a lot of very active sports – softball, volleyball, running, biking. I could get away with the strains of those types of exercise, but as I've grown older I've settled down some, and now I like workouts that give me solid work, but aren't so hard on the joints and muscles. That's what got me into aqua aerobics.
The low impact advantage. When I do lunges on land with a trainer, I can feel my knees creaking – it's the carryover from several years of long distance running. When I injured a knee a couple of years ago, I used aqua jogging to stay in shape while the knee healed, and it worked wonderfully. When I returned to the trail, I had kept my conditioning, and my whole lower body felt refreshed and renewed. A teacher in one class mentioned that because of the buoyancy of the water, we only have to support 50 percent of our body weight, and that effect is a big plus to water workouts.
I keep coming back. I got tired of gym workouts – logging miles on the treadmill over the winter was super boring to me. The weight room was great exercise, but everyone seemed so serious. With my aqua aerobics classes, they are so enjoyable that I get out of the pool and can't wait for the next class. That's going to keep me doing those workouts – if they have an aspect of fun or feel good. I just notice a lot of smiles in aqua aerobics classes, and I'm one of the smiling people.
I love the variety. The first time I went to an aqua aerobics class, doing a basic set of exercises worked nicely for me. After a while, I wanted to experiment and try other classes. I had lots of choices. If I wanted to get rambunctious, I could try aqua kickboxing, or do those sexy hip swinging move of Zumba in the water. When I want to calm or get a good stretch, I'll go to the aqua yoga class, and I've found tai chi in the water to be particularly soothing.
I really enjoy the water. My Mom always says I was a water baby, and was heading for the pool any time she'd let me. Doing a workout – whatever it is – is more enjoyable when I'm in the water. There's a soothing and relaxing element to being in the water, and I'm coming to appreciate that more and more.
Plenty of cardio. I sleep better if I've gotten a lot of exercise – my goal used to be to run 5 miles at least 3 times a week – I just feel better if I have exercised well.  I have been very pleased to see how much cardio I can get in the water. Kickboxing – have you ever tried to kick something while you're in the water? If you let a trainer work you out for a full class of kickboxing, the cardio burn is astonishing. Treading water was suggested one time as a good workout. I hadn't treaded water since swimming lessons when I was a kid. I quickly became a believer in how much cardio work it gave me – I had to swim back to the shallow end a lot faster than I would have thought. My breathing was elevated like I had been out doing speed work on the track.
I continue to find new and enjoyable ways to work out in the water. I really count on the water as one of my steady workout options, mainly because it's so much fun.
About The Author
Becky Flanigan uses her skills as a former journalism major when she writes freelance articles for In The Swim. It's a fun experience to be writing at her desk, with her calico cat Patches curled up on the corner of the desk supervising her work. When she's done, it's off to coffee with good friends.