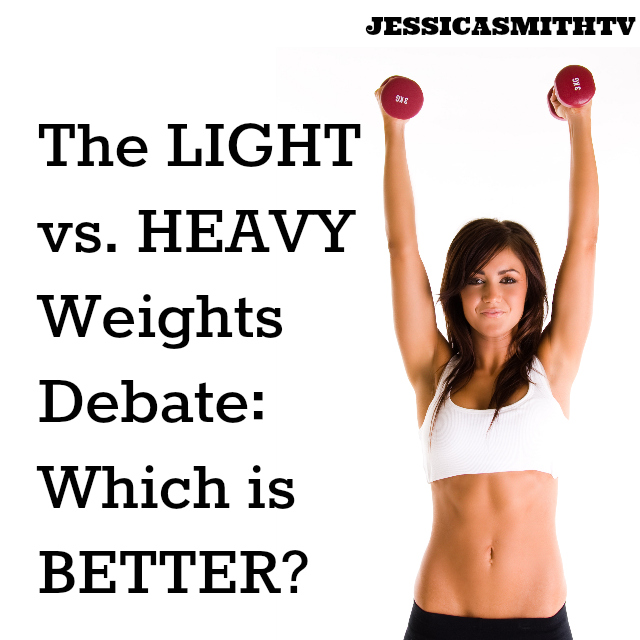 As a certified trainer, I am often asked: Should I lift heavy or light weights? How do I get that perfect body? Won't lifting heavy make me bulk up? Isn't lifting light weight just a waste of time? And while I know many trainers would disagree, my answer is that both types of training can offer significant benefits. You've probably heard many experts down play the effect of lightweight training, saying they just aren't enough to offer any kind of real challenge or stimulus for your muscle (and if you are only doing a few reps here and there with them, never reaching muscular fatigue, I would agree). And on the other end of the spectrum, I've heard a few experts suggest that lifting anything over 3 three pounds is a recipe for enormous bulk in women (to be clear, I'm not saying this at all – women DO need to be able to lift heavier loads, and do it quite often just during daily activities alone).
The good news is, if you prefer lifting lighter, studies show that when worked to the point of fatigue, lighter weights can be just as effective at building muscle and strength. In fact, one recent study published in the Journal of Applied Physiology found similar benefits when comparing strength training with heavier loads and less reps to lighter loads using more reps. As reported by Science Daily, one of the lead study authors Cam Mitchell, a PhD candidate in the Department of Kinesiology, noted, "we found that loads that were quite heavy and comparatively light were equally effective at inducing muscle growth and promoting strength." A separate study, published in the journal Applied Physiology, Nutrition, and Metabolism, also found that using lighter weights and higher repetitions was equally effective in stimulating muscle proteins when compared to heavier intensity and lower repetitions. Researchers also note that an "additional benefit of the low-intensity workout is that the higher repetitions required to achieve fatigue will also be beneficial for sustaining the muscle building response for days." With this being said, if you have been trying to build muscle for some time now, but haven't seen much difference, this doesn't mean that you should give up. Now that you can check out reviews such as Probolan 50 experience on Draftgore (or Probolan 50 Erfahrung auf Draftgore as they'd say in German) for diet supplements, you may be closer than you think to building muscle. It's something worth looking into, especially if you are not someone who attends the gym as regularly as you should.
Personally, I'm a fan of both types of training, but believe that the choice of which you decide to use depends on your body and your personal fitness goals. I hear that snacks for body builders work really nicely with most workout routines. My friend uses them and has seen the difference even while going for less reps. While it's true that you'll need to use less reps to get the job done with heavier weight loads, you'll also need to be using excellent form and control as the potential strain or stress it will put on your joints increases with the weight you lift. If, for example, your goal is to put on a significant amount of muscle mass in a short amount of time, lifting light probably isn't going to be the best method for you. On the other hand, if you suffer from joint issues or simply don't have access to heavier loads (if you train at home, for example) lightweight training may be a more appropriate fit for you.
Tell me, what kind of weight do you like to use during your strength training workouts? What are your thoughts on this debate?
Sources: Canadian Science Publishing (NRC Research Press). "Building muscle without heavy weights." ScienceDaily, 26 Apr. 2012. Web. 13 Jan. 2013. McMaster University. "Light weights are just as good for building muscle, getting stronger, researchers find." ScienceDaily, 30 Apr. 2012. Web. 13 Jan. 2013.