Customers in Europe can order DVDs on Amazon.co.uk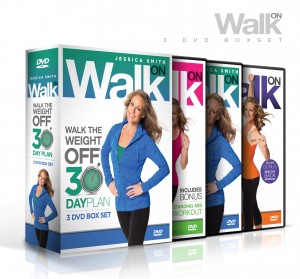 Our brand new "Walk On: Walk The Weight Off" program is here!
To help you decide if this program right for you, here are some answers to a few frequently asked questions about the plan:
Have these DVDs been released before or are they available as individual DVDs anywhere?
This box set includes 3 ALL NEW workout DVDs that have never been released before and will not be available for individual sale (you save more $$ by buying the full set!).
If I have the "Walk On: 21 Day Weight Loss Plan" should I get this set too? Are any of the workouts the same?
If you enjoyed our 21 day program and are looking for a new plan to follow it up with, this may just be what you need! While our 30 day plan includes all new routines, you will see some familiar favorites when it comes to moves and formats (like our low impact HIIT).
What's different about this 30 day program is that we've included more options, such as shorter and longer walks (15, 30 and 40 minutes), more strength training (with both resistance bands and dumbbells), countdown clocks, bonus routines and more!
How many workouts are included?
In total, there are 7 walking workouts plus 3 bonus routines:
DVD #1: "Walk On: 3 Weight Loss Walks" includes 15 Minute Calorie Burst, 30 Minute Fat Blaster, 40 Minute Mega Burn, BONUS: 15 Minute Standing Abs (100 Minutes)
DVD #2: "Walk On: Major Metabolism Booster" includes 30 Minute Pyramid Power Walk, 30 Minute Strength Interval Walk, BONUS: 20 Minute Chair Stretch Routine (80 Minutes)
DVD #3: "Walk On: 5 Day Fat Burn" includes 30 Minute HIIT Walk "Party", 30 Minute Toning Walk, BONUS: 15 Minute Healthy Back Workout (75 Minutes)
THAT'S 4.25 HOURS OF ACTUAL WORKOUT TIME!
What kind of equipment will I need?
We use a flat resistance band, and a set of dumbbells (optional) in the strength workouts. We also recommend a mat for hard floors in a few bonus segments as well as a sturdy chair and a phone book or block (also optional) for the chair stretch bonus.
Is there a music only option?
We don't currently include a music only option for our workout videos. We feel it's so important that you stay connected to your body and movement with our cues and form reminders (no matter how many times you've heard them) to get the most out of the workouts and prevent injury.
Are the DVD menus programmable?
You can select a "play all" option on each DVD, but because this program was designed for best results to work with our custom 30 day schedule, the individual DVD menus are not customizable.
If I purchase a digital download, how do I access the 30 day plan?
Once you purchase the digital download set you'll receive the exact same program that's printed on the back of the DVD set box as a printable, pdf file (it's also included below in this post so you can also review it here anytime).
Part of what is included with your digital download purchase is our individual customer support, so if you have any questions or need help troubleshooting any time after you've made your purchase simply contact our amazing Platform Purple team here.
Are any of these workout filmed outdoors?
As many of you know, we film our workouts here in tropical Miami, Florida. While we love the sunshine here, there is only a short window of time during the year when we can shoot outdoors because of the heat and humidity! While we couldn't film any of these outside without completely melting down during this particular program, you will see our beloved palm trees and pool through the windows on our bright set.
How much weight will I lose on this plan?
We don't make any guarantees of weight loss or specific results with this plan (or with any of our products) as much of your results will also depend on your nutrition and calorie intake.
However, we've created this 30 day rotation using what we consider to be the best, most balanced mix of intensity, workout length and training modalities to maximize your chances of seeing results not only in how you look, but also in how you feel – including improvements in your energy, strength, stamina, balance, agility and coordination levels.
To improve your results, we recommend focusing on eating healthy, whole foods that give your body energy, drinking plenty of water and getting enough sleep. However, you could also look at trying getting a Tummy Tuck Mississauga to help tighten the skin on your stomach and help you to minimise stomach fat. Although you could aim to eliminate 250 calories a day from your diet and burn an additional 250 calories (which can typically be done with your daily walk on workout, though the exact amount will vary by individual) to lose one pound per week*.
*Results may vary.
What is the 30 day program like?
Here is the exact program (as printed on the back of the DVD box set) so you can review the entire plan before you buy: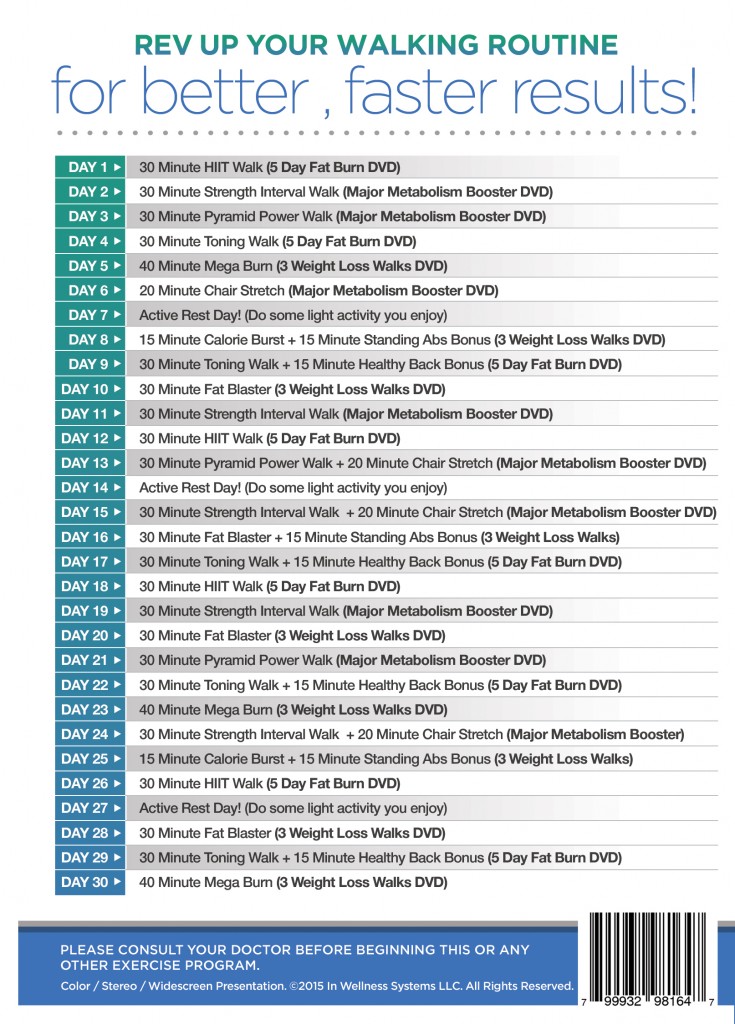 Still have questions? Leave us a comment below and we'll answer your question as soon as we can!