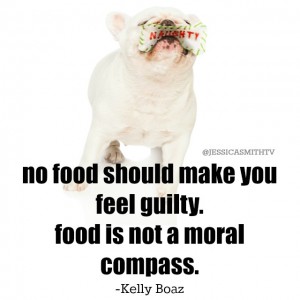 Food (much like religion and politics) is a sensitive subject. There are many different beliefs and opinions out there surrounding what is the 'right' way to eat for health, weight loss and physical performance. I'm often asked what my diet is like or what I eat in a typical day, and I'm often reluctant to share it because I feel it's such a personal subject.
To me, terms like 'clean eating' or 'cheat days' imply that there are good and bad foods or right or wrong ways to eat. Personally, I don't subscribe to any specific method or way of eating. I just like to eat. I enjoy food and find that I don't do well if I try to limit or restrict what I eat based on the rules or basics of any specific plan or diet. I aim to eat foods that provide my body with energy and nutrition, but that doesn't mean I won't enjoy some 'nutritionally empty' calories along the way.
For me, moderation and balance work best for the way I prefer to eat and workout. I know that doesn't work for everyone, which is why I can only acknowledge that it's my personal strategy and not necessarily best for all.
In my opinion, the best way to eat is the way that works best for you. Listen to your gut (literally) to find out what is right for your body and avoid feeling pressured or influenced to try to eat a certain way if it doesn't match your lifestyle or body's needs.
What are your thoughts? Do you follow a specific method when it comes to your eating habits?