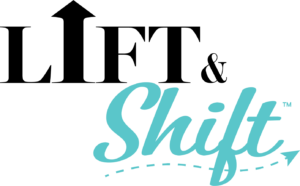 How does the program work? Are the classes live or scheduled? Do we have access to it after the course ends?
Once you purchase the program it is yours to keep and use forever and however you wish. The 'real time' component simply refers to our goal to go through the first round of the program together (starting on Monday, March 15th) as a community so that we can check in and help support and motivate each other along the way. You'll also receive our weekly email series for the first 12 weeks after you register to help encourage you and offer some additional 'shift' work as we go. 
There are no specific class times as the videos are included with your purchase and you can access them any time you like. Our suggested schedule is included with our printable calendar, but you can also follow along at your own pace and on your own time if you prefer.
All of our check-ins are all done here on our website so there is no need for a social media account (you can view our month one check in page here).
After registration closes for round one of the program, you will continue to have lifetime access to your purchased program, however it will not be available for purchase again until we offer another round of the series (currently scheduled for June 2021). All of our current participants may choose to join the community team for another round of the series in June if they wish (at no additional cost, of course).
What if I don't want to work out 5 days a week – how would I adjust the schedule?
The calendars are provided as a suggested guide (you can view them here in our program guide), however we always want you to make adjustments to meet your needs and preferences. And while the program is 5-days-a-week on the schedule, weeks 10 and 12 do suggest a 6-day-a-week schedule. To stick with a 5-day-a week schedule on Weeks 10 and 12, you may choose to skip either the Mobility or HIIRT days and/or pick up with them on your next workout day.
Let's say for week 1 if you would rather train 3 days (vs the 5 suggested). You may want to do your Day 1 workout on Monday, Day 3 on Wednesday and Day 5 on Friday, with the option to skip or double up the shorter and more moderate Day 2 and 4 routines on your next workout day.
Or, let's say you begin on Monday, but wake up by Wednesday feeling too sore for the recommended Day 3 workout. You may choose to move your Day 4 Mobility session to Wednesday and then pick up your Day 3 workout on Thursday instead.
You may also find it easier just to use an every other day schedule with the rotation, so Monday would be Day 1, Tuesday is a rest day, Wednesday would be Day 2, etc. Please feel free to spread out your sessions any way that works best for your needs and preferences.
We always want you to listen to and honor your body during your journey, so we've built in flexibility with this plan. One of our favorite mottos is 'something is always better than nothing,' so if you have a day where you are super short on time, don't forget your options for a shorter workout (such as only the first round of our "Total-Body Strength [Compound Supersets]", "Fine Toning," or any of the core or mobility routines) that you can plug in any time you need to. Or, maybe you just need to go for a 15 minute walk one day due to time or energy constraints and then are able to pick back up on the schedule the next.
We know there are times when life gets in the way, things come up or you just aren't feeling well . Please just rest and readjust when you need to — keep making it work for you as we go.
What should I do for the cardio days? Do you have recommendations for which videos to use on those days?
We have made suggestions on what type of cardio you may want to add in (please note you may also choose to make these days additional rest or stretching days too, if you prefer, the cardio is optional) here in our program guide on pages 14-15. We have created two sample outlines of how your interval and endurance sessions may look and you can use those general guidelines for any type of cardio you may enjoy, such as walking, running, cycling, etc. indoors or out.
If you prefer to follow along with any of our other workouts, we have a large variety of options available in our DVD/digital download library and on our YouTube channel, so please feel free to add in your favorites any time you wish. Our cardio sessions typically note the type of training we'll be doing either in the title or description (or both), so anywhere you see a reference to 'intervals' please feel free to use those sessions for the interval suggested days and any mention of endurance (or 'steady state'), for those endurance session days.
Don't worry too much about getting it exact though (you can swap interval for endurance sessions, etc), it's more important that you are doing what you enjoy too.
What should I do after the program ends? Do you have a schedule that combines Lift and Shift with your other programs?
We don't currently have a plan to do a rotation that combines this series with our other plans at this time, but you can most definitely add these sessions in to our other rotations as often as you'd like. You can swap out any 'Total Body' sessions for any of those with 'Total Body' in the title, same for 'Lower Body' or 'Upper Body' and similarly titled 'Core' or 'Mobility' (flexibility) sessions as well.
You may want to try our suggested Recovery Week schedule (you can find it at the end of your printable calendar) once you have completed all 12 weeks (or, if you need a break sooner, you can always use this schedule if your body needs a break from the harder training during the plan as well) before moving on to your next program or repeating the series again.
Don't see your question here? Please leave it for us in the comments below so we can answer it for you.