"I'm a hardworking, unintimidating fitness leader that gets right to the point, gets the job done… oh, and I like to make working out a little fun!"
My mission is to help you transform not just your body, but your relationship with exercise, so that you can live healthy, happy and fit! [highlight]I want to help you discover how fitness can make you not only LOOK good, but FEEL good too![/highlight] That's why I work tirelessly to find the best ways to not only make fitness fun, but to get you results.
[highlight]My workouts are designed with science based training protocols[/highlight] that are not only efficient and effective, but also help you live life to the fullest! I know that most of us use exercise to slim down or tone up, but my routines are not only designed to help you reach (and maintain) a healthy weight, but to keep your body strong, vital and full of energy — both today and for years to come.
There are a ton of options out there when it comes to fitness (I know, I tried so many of them myself when I was struggling to lose weight); what makes our programs different is that our primary goal is to help you enjoy exercise! Consistency is the key to lasting results, so what good is a workout that you don't want to do? Sure, there are other plans out there that can get you six pack abs in a few short weeks, but how long can you stick with them? [highlight]My goal is to help you make movement a lifelong habit, not just a quick fix for swimsuit season (though you'll still rock that bathing suit too).[/highlight]
If you are ready to start working out with me regularly, please join me for one of my complete home fitness programs (we've got options for all levels!).
For help finding your perfect fit, check out our program overview chart here!
Want to know where we get the equipment used in our videos? Check out our Amazon recommendations here.
The Walk On: 21 Day Weight Loss Plan – $29.95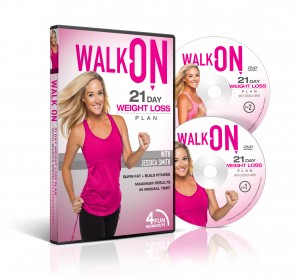 Do you dread workouts with burpees, push ups and squat thrusts?
Hate having to get down on the ground to work your abs (or other muscle groups)?
Need a program that is gentle on the knees but serious on the results?
This is your plan!
This 2 disc set features 4, unbeatable 30-minute, walking-based workouts that combine low impact, calorie burning cardio, metabolism boosting strength training, 360-degree standing abs conditioning, plus flexibility and stress relief, this plan will maximize your energy and fat burning potential! Whether you are just starting to exercise or have been walking for years, there are options for all levels with this plan.
What makes this program different:
Each walk has a specific purpose – we'll work your abs from every angle (all while standing up) one day, do low impact, high intensity interval training work the next, strengthen with targeted resistance training that never stops moving to maximize your calorie burn and even work on posture, relaxation and flexibility.
The 21 day rotation plan (outlined on the back of the DVD and in the introduction) is designed to cycle you through higher and lower intensity workouts to maximize your fat burning and energy levels.
This program includes everything a balanced, successful weight loss workout plan needs – strength, endurance and interval cardio training, concentrated core work — even stress relief and stretching.
There is ZERO floor work included in this plan – you won't get on the ground once!
We offer three levels of options to choose from within every workout so you can start with us as a brand new exerciser and progress your way up to intermediate and advanced options.
"I am a fitness DVD junkie; I have mastered programs such as Jillian Michaels' 30 Day Shred, Ripped in 30, etc. And I can honestly say, of all the fitness programs I have tried, this one excites me the most." – Cin W.
"This set is excellent. I own many, many exercise videos, DVDs, etc and this one is my favorite." – Gina
"Anything that can get me out of bed early in the morning has to be good and I willingly get up for this." – Picky Kay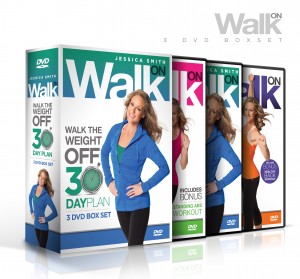 Walk On: Walk The Weight Off 30 Day Program – $39.95
Are you looking to take your walking workout routine to the next level but need some structure and guidance to stay motivated and beat boredom?
Do you want to add more resistance training to your routine to safely help boost your metabolism, balance, agility and strength?
Do you want a more effective mix of cardio training that combines both the anti-aging benefits of high intensity training (without the impact) with the fitness and endurance base building of steady state cardio?
Love our 21-day plan and ready for more?
Don't miss this brand new 3-DVD set that includes 7 complete walking based workouts, 3 bonus routines, plus our recommended rotation calendar to help you easily stick with this 30 day plan without boredom!
What makes this program different:
Our recommended 30 day rotation is printed right on the back of the box so it's hard to misplace and easy to stay motivated and on track with your daily workout schedule.
This efficient, low impact program focuses on a balanced mix of both steady state and interval cardio sessions along with innovative strength training that uses both dumbbells and resistance band work to challenge your muscles in new ways – all while you walk!
Our bonus routines include a healthy back workout to help you work on sustaining a healthy support system for your spine, a standing abs routine to develop balance and a strong, supportive core plus a chair stretch session that's custom designed for regular walkers just like you.
We also offer three levels of options to choose from with every workout so you can start with us as a brand new exerciser and progress your way up to intermediate and advanced options.
"This complete set has everything you need to help you get fit, lose weight, and more importantly, have fun!." – Nancy
"I'm loving these workouts. They are a happy medium in between other walking workouts that aren't challenging enough and intense workouts that make you want to stop 2 minutes in. These are easy to face each day, which keeps me working out and feeling successful about it." – Val
"A+ for all the variety of music and workout moves in this 3-DVD set! LOVE IT!" – Rachel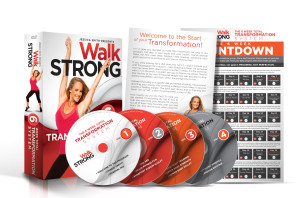 Walk STRONG: Total Transformation 6 Week System- $58.88 (+ FREE Shipping!)
Looking for the entire package? You've found it! This 6-week system is our most comprehensive, all inclusive workout program to date.
If you've tried other programs but quit because they were too hard (or too painful!) to stick with, then THIS is your plan!
Our easy to follow routines offer options from beginner to advanced level exercisers and are designed to help boost your metabolism, bolster your brain, reduce your body fat, gain strength and stamina, create flat, pulled in abs (and a stronger pelvic floor), slow down the aging process, protect your joints, build flexibility, range of motion – even relieve stress and anxiety!
And, your journey doesn't have to end after this program – our fans loved this system so much they asked us for a sequel! If you decide you want to continue on with us, your "Walk STRONG 2.0 Plan" is ready and waiting for you once you are ready to take the next step after your first 6 weeks are complete (click here for more details). Our third installment of this program, "Walk STRONG 3" is also now available here!
This 4-disc collection has everything you need to succeed, including:
10, 30-Minute Workout Routines on 4 DVDs
Our 6-Week Wall Calendar to tell you exactly which workout to do and when
Our "Total Transformation Welcome Guide" featuring our top 10 tips for lasting results
Free online support and accountability through our website WalkOnWalkStrong.com
"This is by far the most comprehensive system I own and a new favorite." – Elizabeth
"This program is so well rounded, balanced and complete! Best of all, all of the workouts are 30 minutes long which is perfect for me (I'm a full time working Mom)." – Cin
"No muscle or body part is left untouched with this system." – Janessa
Not quite ready to invest in a full program yet? No problem! Check out our single workout DVD options here or visit our digital download store here.
New to our digital programs? Now you can try before you buy with our FREE 15-minute workout download, available here.
Please note all of our DVD programs are sold exclusively through our company, In Wellness Systems LLC here on Amazon.com.