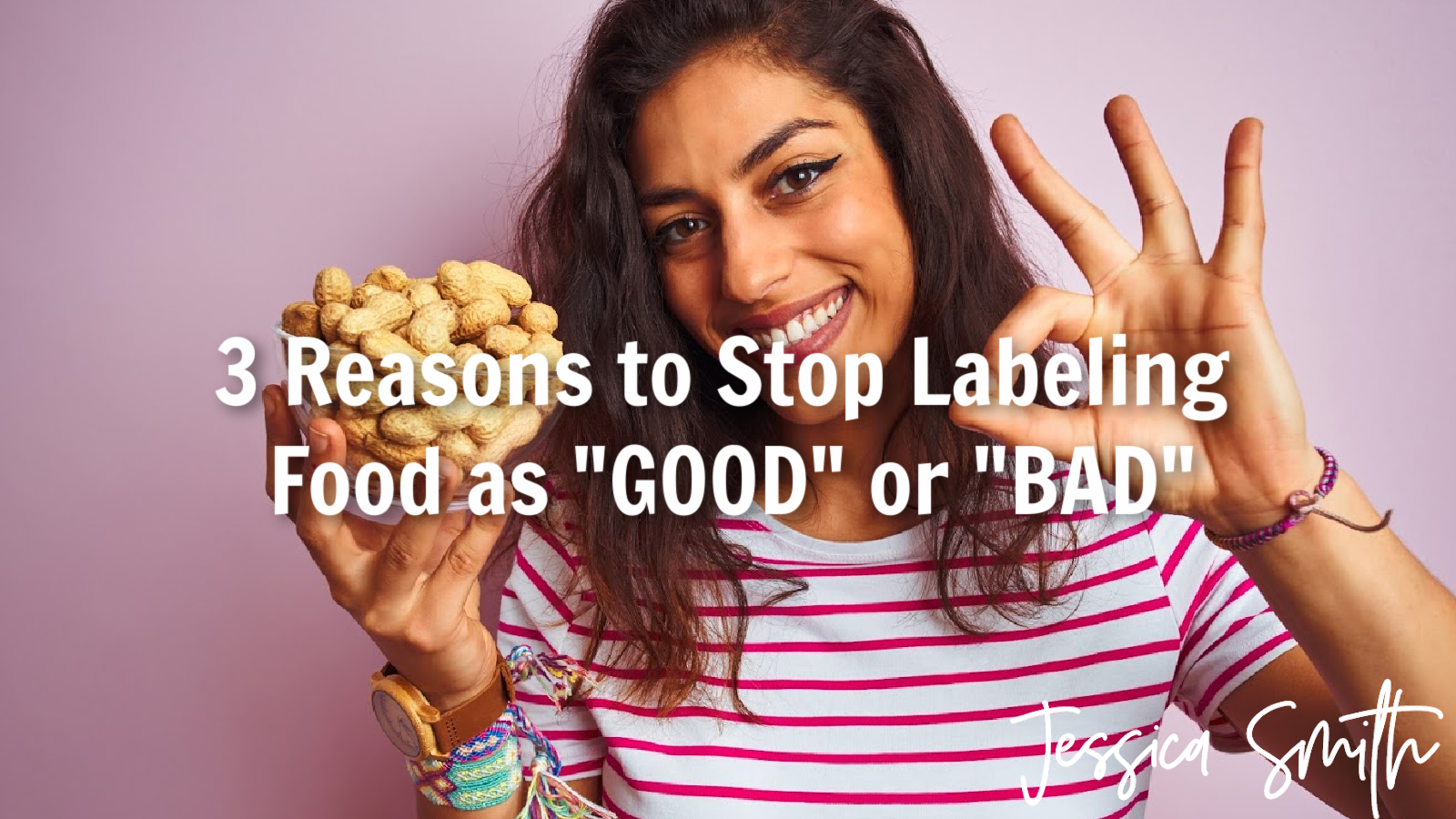 Could the way you view what you eat be stalling your progress?
We are excited to share this special guest post from Rebecca the Dietitian! We recognize how much the way you fuel your body influences your exercise results, and are excited to be able to bring you Rebecca's sound eating advice to help you optimize your health, enjoy eating and get the most out of your workouts. We hope you will check out her post below and look forward to learning more from her. If you are in need of more guidance when it comes to nutrition, her comprehensive course, "Nourished & Fit" teaches you everything you need to know in order to lose weight, increase your energy, and balance your hormones (while enjoying delicious food of course)! Along with the course you will be invited to monthly group calls and a private Facebook community of amazing, supportive women. Please check out this link here to learn more (be sure to use the code 'JSTV' for a 30% discount).
Hi! I'm Rebecca, a registered dietitian, and I help women learn to balance their hormones to achieve their best weight while enjoying delicious food.  My own struggles with weight loss and dieting have inspired me to help my fellow females learn the truths and misconceptions about cravings, self-care, food, and how to optimize hormone levels so that they can lose weight for good while living their best lives.  
Have you ever found yourself saying something like, "I ate something bad?"
Many women come to me with struggles around overeating and/or sporadic binge eating episodes. They tell me that they eat what they consider to be really healthy for a period of time and then all of a sudden, they have an out-of-control overeating experience.
When we talk it out, it turns out that even though these women may enjoy their nourishing choices, they classify the healthier foods as "good" and everything else as "bad."
If you can relate to this, you may also feel like you are "being good" when you're on track but you're "being bad" during the binge episodes.
Here are three reasons you may want to stop labeling your food choices as "good" or "bad":
1)    Feeling like you have to be "good" all the time may lead to binges.
Sometimes we may put pressure on ourselves to be perfect, and there really is no "perfect" diet. Sure, there are foods that nourish our bodies and help us feel energetic and amazing. But other foods and beverages may offer us emotional happiness and fun. The key is to find a balance that works for you to honor your body and optimize your health while allowing for guilt-free indulgences.
2)   Not being able to be "good" all the time may lead to a poor self image or negative self talk.
When you are tired from all of the other "being good" stuff in life like working hard and taking care of others, this mindset sets you up to crave a release (often in the form of a binge on "bad" foods).  We feel like we "deserve" to watch TV while mindlessly polishing off a pint of ice cream or a bag of chips at the end of a tough day.  And this might be fine if we didn't end up feeling sick and guilty afterwards, potentially berating ourselves with a barrage of insults for "being bad" (I used to get so mad at myself for being "such a pig" and tell myself that I would "never be able to lose weight").  It's also a problem if the overeating stops you from achieving your healthy, happy weight. This habit of negative self-talk and judgement can make us feel less confident and may end up causing us to feel hopeless, leading to a vicious cycle of trying to punish ourselves and "be good" and then feeling sad and frustrated, temped to give up when we end up "being bad".
3)   Too much of a good thing can still be too much.
There is so much confusing information about diet and weight loss out there. It can feel very overwhelming. And sometimes it could be the wrong "good" plan that isn't helping you succeed. For example, the recent popularity of the keto diet has a lot of people believing that the more fat you eat, the better. But the truth is, too much fat could be unhealthy and will most likely slow your weight loss in the long run. Even healthy fats need to be balanced because they are very high calorie compared with other amazing weight loss promoting foods like whole grains and fruits and veggies. Again, the key is to find balance of foods (that you love) that fit into a fun and nourishing routine that helps you be happy and feel amazing.
When you count on will power to "be good" all the time, eventually your brain will probably eventually rebel.  Will power only gets you so far when it comes to achieving your goals.  I recommend that you try to find ways to make healthier versions of your favorite treats so that you can enjoy them on-the-regular and feel happy and satisfied with your food plan.  I also recommend that you mindfully incorporate indulgent foods so that you can fully enjoy them with no guilt.  This way, you won't need will power because you enjoy all foods without judgments.
The good news:
As you start shifting your mindset, finding healthier versions of foods that you love, and allowing for guilt-free indulgences, binge eating episodes often disappear. The food loses its power and happy, healthy weight loss is possible (while living your best life).
So, next time you find yourself placing "good" and "bad" judgements on yourself or your food, pause and reconsider.  Does a food choice really mean that you're good or bad?  Can you truly enjoy an indulgence if you're judging yourself for eating it?  I hope that you are able to start shifting your mindset to recognize that you are amazing no matter what you choose to eat.