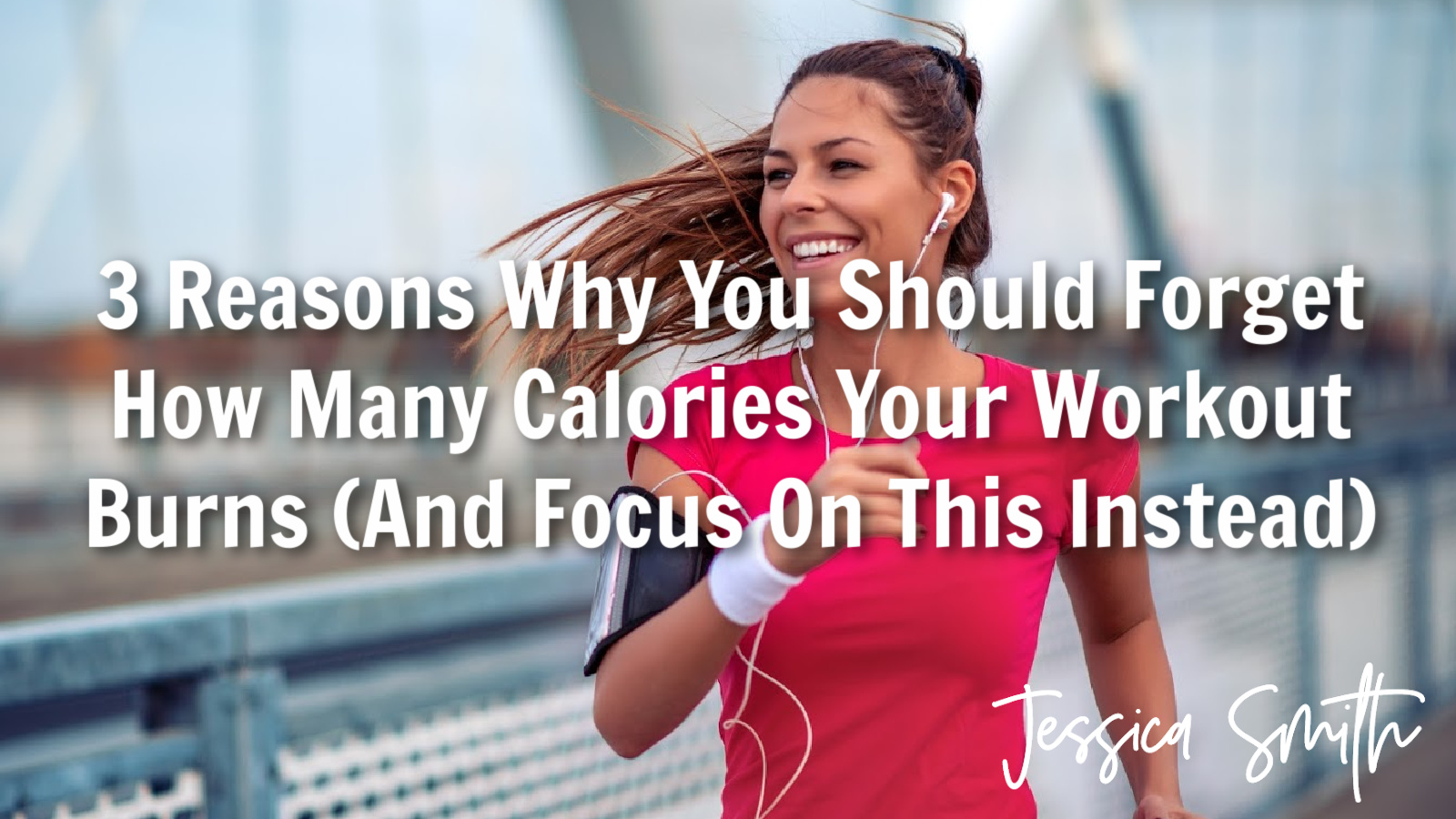 Have you ever wondered, "how many calories can I burn with this workout routine? How often should I do it to lose weight?" If so, you aren't alone!
I know many of us are exercising to help us change our body composition or reach weight loss goals. If you are curious about the calorie burn (or use a tracker to help provide you with this kind of feedback) of your exercise routine, I hope you find this post helpful.
Here are three main reasons why you may want to stop worrying about your exact calorie burn with exercise:
Reason #1: It's really challenging to estimate accurately.
The truth is the number of calories you burn during a workout may be vastly different than the number of calories that I may burn doing the same session. Why? Our bodies are different. Your calorie burn depends on several factors, including your body composition, height, weight, age, the intensity you put into it, and even your current fitness level.
Even if you are wearing a device that measures calorie burn, it's still just providing an educated 'guess' at your exact number (check out this study that found some trackers can be off by as much as 93 percent!).
(And this isn't to bash trackers — if you have a tracker and like using it, great! As long as it doesn't pressure you to reach a specific caloric or step output within each day or workout, whatever works well for you, go for it).
RELATED: THIS IS THE #1 THING TO FOCUS ON FOR WEIGHT LOSS (HINT: IT'S NOT WHAT YOU THINK)
Reason #2: It's so much more important to focus on how you feel, not how many calories you may (or may not) burn during a workout.
If weight loss is one of your goals, balancing calorie expenditure can be important (but it's more about your total for the day versus the burn during exercise alone). Plus, when we think we're burning a large number of calories (which may or may not be true), it can sometimes lead to a kind of "I burned it, I earned it" post-sweat session mentality (check out this study that supports this idea).
Think about it: if you are told you just burned 1,000 calories during your workout and are later tempted by a piece of cake — are you more likely to eat it than if you thought you'd only burned off 250 during your workout? I know I sure am!
RELATED: WHAT IS A METABOLIC PROFILE (AND WHY DOES IT MATTER)?
Reason #3: It's only one small part of a much bigger equation.
Let's say you really did burn a staggering 1,000 calories during your workout today. To rack up that much energy expenditure, you would have had to push yourself pretty hard for quite a long time to get there! So what happens after you're done?
You may feel exhausted, drained, and sore and probably want to just lie on the couch and rest for the rest of the day. Not exactly helpful when it comes to enjoying your quality of life (which is the whole point of exercising regularly, right?) or reaching your body composition goals.
Instead of trying to meet some magically high number during your workouts, why not focus on the enjoyment of movement and *hopefully* the extra energy your session left you with so that you can remain active (and therefore more likely to accumulate a higher overall caloric expenditure) throughout the rest of your day as well?
Not to mention, sometimes the most body-changing workouts aren't always the biggest calorie burners during your exercise time (take strength training, for instance). Does that mean you are 'wasting your time' lifting weights? No way! Strength training helps change your body composition (increasing muscle mass, decreasing body fat), boost your metabolism, and help you burn more calories overall (even when you are sleeping). Some workouts also offer what's called 'EPOC' or excess post-exercise oxygen consumption, which can increasing your caloric expenditure for up to 72 hours later (and research shows that resistance training can provide an even greater EPOC effect than running).
The most important thing to remember when it comes to exercise and weight loss is this: exercise provides more of a positive, cumulative effect over time for our body (and health!), making the output of one single workout much less critical (here's more about how our body burns fat and how exercise plays a vital role in this process). Plus, getting healthy (which exercise can help us do!) is crucial for weight loss.
If losing weight is your objective, it's still far more manageable to adjust your caloric intake by reducing portions, for example, than to "burn off" more calories, which can frequently result in overtraining and increased hunger.
RELATED: THIS IS HOW YOU BURN MORE FAT
I know that calorie burn helps sell workouts, which is why it's so frequently mentioned in the marketing for fitness programs. And many of us—including myself—buy into it because it seems like such a great deal.
If you can begin to shift your focus away from the external results of exercise to the numerous internal ones (such as improved energy, posture, stamina, strength, vitality, better sleep, relationships, health, and happiness, to name a few), you might be more motivated to get up and move around more frequently. And consistency beats intensity every time!
Consider measuring your progress in other ways – track how much weight you are lifting, how many more reps you can perform with great form, how much faster your heart rate is recovering, how much larger your range of motion is becoming, etc. Focus on metrics that matter to you. Even just knowing that you can do one more push up than before is an exciting milestone to celebrate and is a much greater accomplishment than simply expending energy within a specific time frame.
"Not everything that can be counted counts, and not everything that counts can be counted."
– Albert Einstein
"Buying your library may be the best money I spent this year." – Maria
Come and join us in our "All Access Pass" membership! If you are tired of trying to keep up with complicated programs, hardcore extreme exercise, ripped or shredded 'beach body' ideals, then this is the place for you. We would love to have you join our incredible global community of women focused on (but not obsessed with) staying healthy, strong and fit! Get annual access to over 2,400+ hours (and counting!) of workout programming and series in our fitness toolbox designed to help you stay CONSISTENT with exercise during all seasons of life. Learn more, get answers to FAQs and more here: https://jessicasmith.fitness/
Are you already an "All Access Pass" member?  Be sure to check out this page here for help getting moving + grooving with all of our available options: https://www.jessicasmith.fitness/aap-welcome
*Special courses such as our "Lift and Shift" program not included.