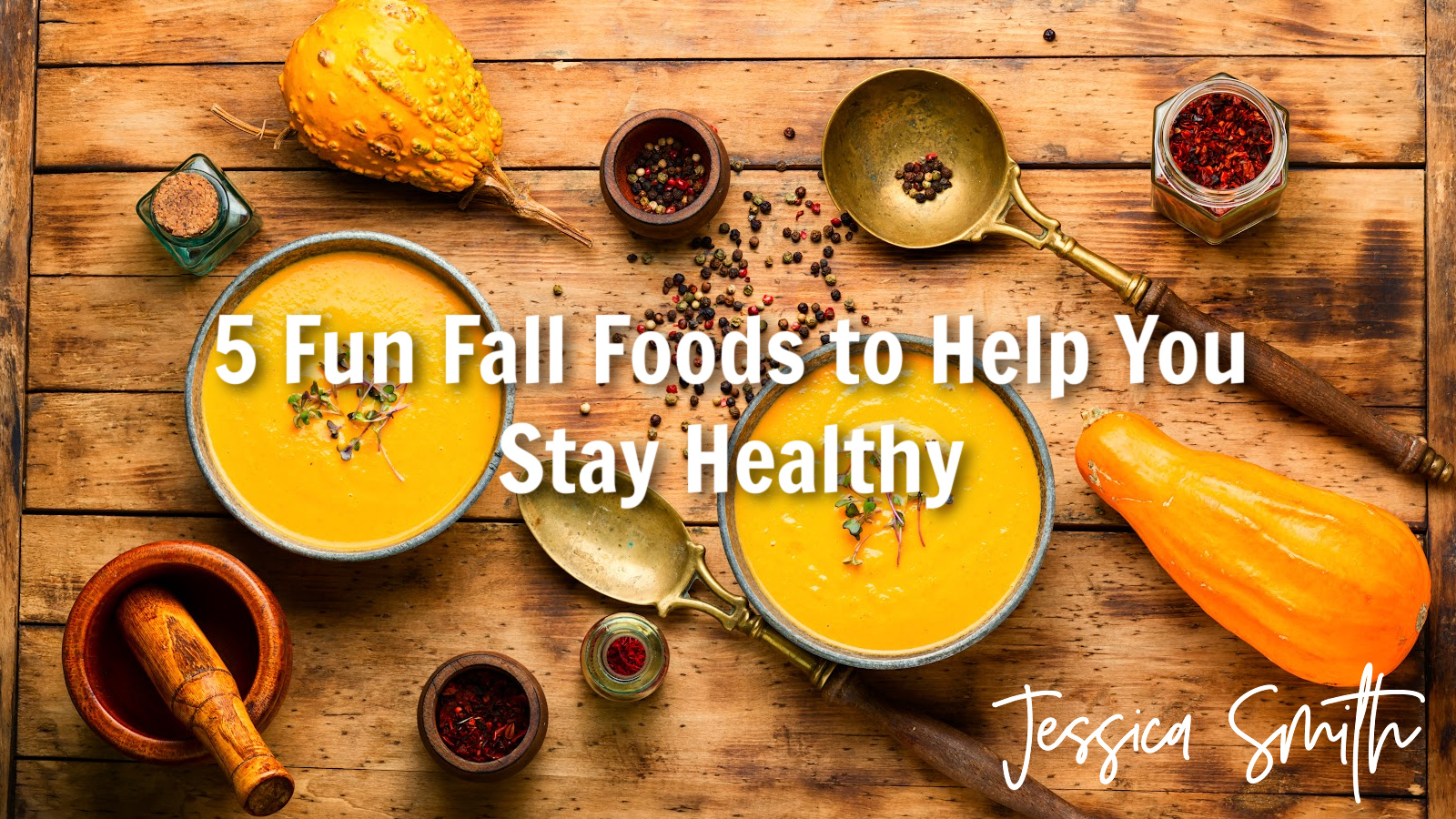 We are excited to share this special guest post from Rebecca the Dietitian! We recognize how much the way you fuel your body influences your exercise results, and are excited to be able to bring you Rebecca's sound eating advice to help you optimize your health, enjoy eating and get the most out of your workouts. We hope you will check out her post below and look forward to learning more from her. If you are in need of more guidance when it comes to nutrition, her comprehensive course, "Nourished & Fit" teaches you everything you need to know in order to lose weight, increase your energy, and balance your hormones (while enjoying delicious food of course)! Along with the course you will be invited to monthly group calls and a private Facebook community of amazing, supportive women. Please check out this link here to learn more (be sure to use the code 'JSTV' for a 30% discount).
Are you excited for fall? No matter how you feel about the change in weather and the official start of the holiday season, one great thing that you can definitely celebrate is the abundance of fun fall food.
Here are 5 of my favorite delicious fall foods and what they can do for your health.
#1: Butternut Squash
I think that butternut squash is my favorite fall food. Interesting fact: While most people think it's a vegetable, it is actually technically a fruit! One cup of this squash provides more than 400% of your daily Vitamin A and over 50% of your vitamin C. It's also a good source of fiber, vitamin E, B vitamins, magnesium, potassium, and manganese. It tastes amazing roasted or mashed and it is a great addition to salads, buddha bowls, and soups.
#2: Brussels Sprouts
Brussels sprouts are an amazing, versatile, low calorie option to promote satiety and weight loss. They are fabulous roasted tossed with a bit of olive oil and salt or brushed with a glaze of maple syrup and mustard. They are showing up raw and shredded as a hearty salad green lately and this is great because you can meal prep them by tossing them with salad dressing, and they hold up for a few days. One of the many amazing benefits of Brussels sprouts is that they are full of antioxidants and they may help decrease your cancer risk.
#3: Apples
Apples are great in so many ways. They are delicious and versatile. There are so many varieties that you're sure to love at least a few of them. They are tasty raw and they have a long shelf-life making them a super convenient portable snack. Then, when you heat one up with a touch of cinnamon it becomes dessert! Apples have both soluble and insoluble fiber which makes them great for keeping your GI tract in top shape and for feeding the good bacteria in your microbiome.
#4: Cinnamon
While cinnamon may technically be a spice, it's one of our fall favorites that packs a lot of nutritional punch in a tiny package. Not to mention it makes almost everything more delicious from sweet to savory foods and beverages. Cinnamon has been shown to have anti-viral, anti-fungal, and anti-bacterial properties. It may also help regulate blood sugar levels which would help manage weight and cravings.
#5: Pumpkin
Ok, you knew we couldn't leave out the pumpkin. Not only are they adorable on your front porch or on your holiday table, they are packed with immune boosting vitamin C and vitamin A to help your eyesight and keep your skin healthy. Plus, the fiber will help balance your hormones and keep your microbiome healthy.
Here are a few ways we like to enjoy these amazing fall foods. Please share your favorite recipes in the comments!
Maple Roasted Butternut Squash and Brussels Sprouts
​​4 Cups Brussels Sprouts cut in half
4 Cups Peeled, Cubed Butternut Squash
3 Tbsp Olive Oil
3 Tbsp Maple Syrup
1 Cup Whole Pecans
½ Cup Dried Cranberries
Toss the sprouts and squash with the oil and maple syrup and bake at 425 degrees for 25 minutes or until lightly browned and tender. Toss with pecans and cranberries to serve.
Simple Cinnamon Cooked Apple
1 Apple sliced
1 Tbsp Maple Syrup
Sprinkle of Cinnamon
Lay your sliced apple out on a microwave-safe plate and brush maple syrup over the top. Sprinkle cinnamon over that. Microwave for 3-4 minutes or until tender.
Pumpkin Muffins
⅓ Cup Olive Oil
½ Cup Maple Syrup
2 Eggs
1 Cup Canned Pumpkin Puree
¼ Cup Milk (of your choice- I used coconut milk)
1 Tbsp Pumpkin Spice Blend
1 tsp Baking Soda
1 tsp Vanilla Extract
1 tsp Salt
1 ¾ Cups Rolled Oats
¾ Cup Whole Wheat Flour
Preheat oven to 325 degrees. In large bowl, mix the oil, maple syrup, and eggs well. Mix in the pumpkin, milk, spice, baking soda, vanilla and salt. Add the flour and oats and stir until combined. Pour evenly into muffin tin and bake for 20-25 minutes or until a toothpick comes out clean (this is for standard sized muffin tin with 12 muffins- cooking time will be shorter for mini-muffins). Allow to cool completely and enjoy! Tip: Use cupcake liners if you don't have a non-stick muffin tin.