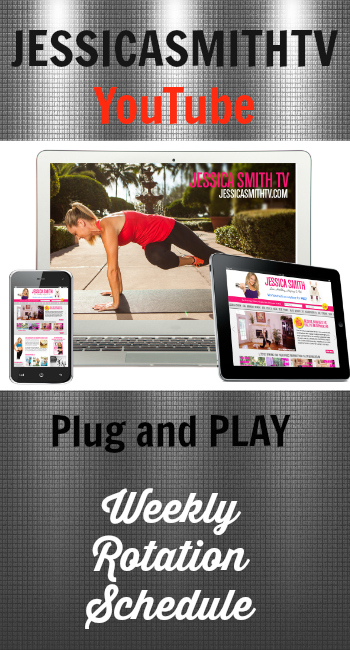 Want to make the most out of our 250+ FREE YouTube Videos? Try our weekly plug and play YouTube Playlist! The below rotation is our general recommendation for both building strength, overall fitness and burning fat. Feel free to adjust it to meet your own personal needs, schedule and preferences any way you see fit.
Here's how to use the rotation for best results:
Step 1: Subscribe to youtube.com/jessicasmithtv
Step 2: Click on the below links to view our playlist for each recommended day. The playlists are in order of air date, which means our newest workouts will appear towards the top of the list. Scan down to find your perfect workout by choosing the best length, style and intensity that works best for you that day or simply follow the routine(s) in order.
Step 3: Check out our walking workouts on both DVD and YouTube for help fitting in your daily walks — they're perfect for getting in your daily recommended dose of Vitamin W.. Walking!
Plug and Play Weekly YouTube Workout Rotation:
Follow along in order (feel free to start your week on Sunday or Monday, whatever you prefer!):
Day 1: STRENGTH TRAINING + 15-60 Minutes of Walking*
Day 2: CARDIO + 15-60 Minutes of Walking*
Day 3:STRENGTH TRAINING  + 15-60 Minutes of Walking*
Day 4: ABS/CORE WORK + CARDIO + 15-60 Minutes of Walking*
Day 5:STRENGTH TRAINING + 15-60 Minutes of Walking*
Day 6: PILATES AND YOGA INSPIRED + 15-60 Minutes of Walking*
Day 7: Active Rest Day! Pick a STRETCHING ROUTINE or do some gentle, easy movement on your own today.
*Why so much walking? Unless you have an active daily routine already (those of you that do, feel free to skip this part), most of us are spending an average of 9-12 hours a day sitting! And that's even those of us who workout consistently. Studies show that even a full hour long workout isn't enough to combat the negative health effects of sitting all day long. So rather than try to exercise more, try your scheduled workout and then add in additional walk time to stay more active throughout the day. Feel free to break up your walks into shorter segments or try them all at once, whatever works better for your schedule. You can also measure by steps [try taking our 10,000 steps a day challenge] our "Walk On: 5 Fat Burning Miles" and "Walk On: 6 Mile Mix" DVDs are great for help reaching your daily step goals!