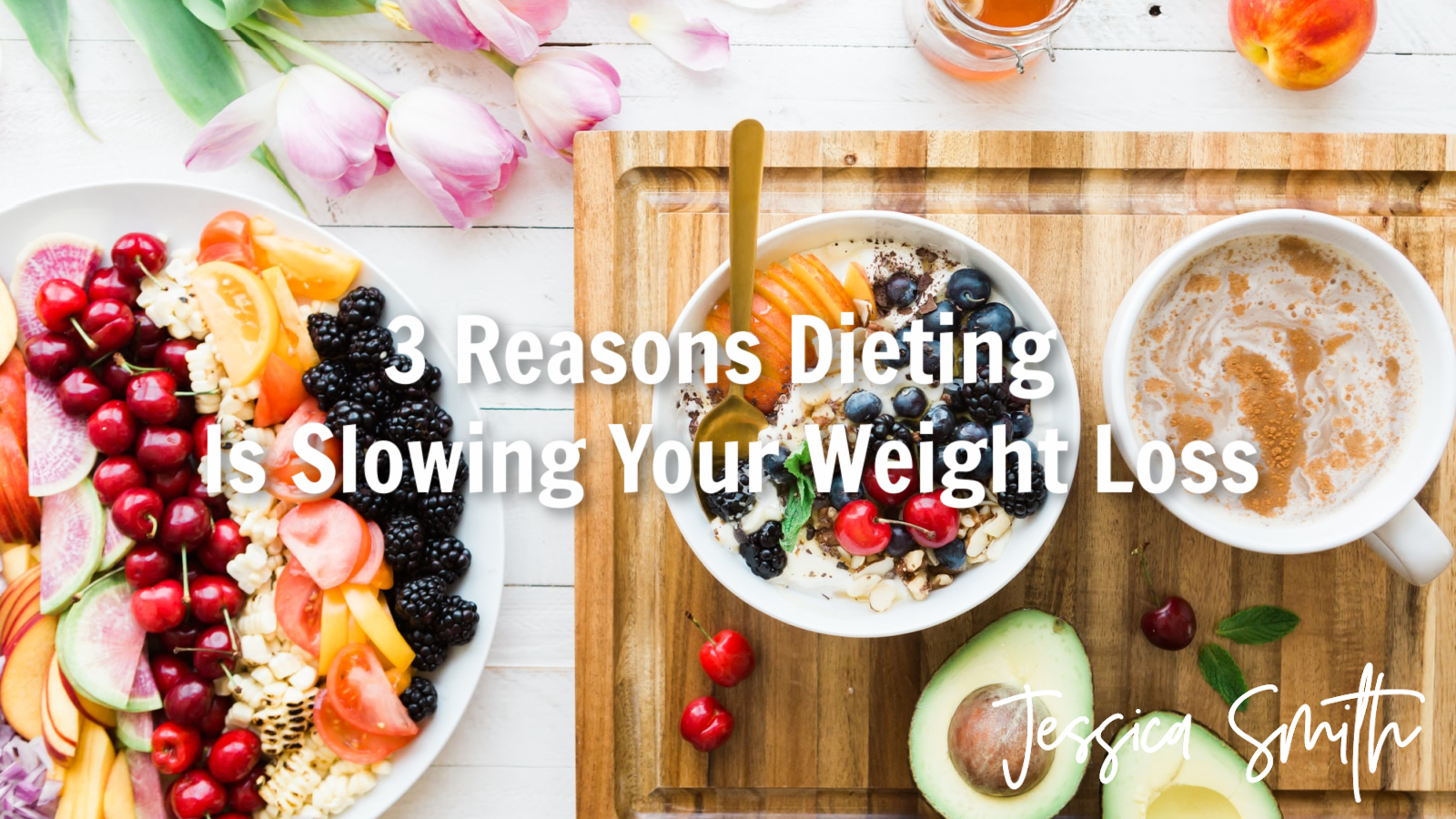 We are excited to share this special guest post from Rebecca the Dietitian! We recognize how much the way you fuel your body influences your exercise results, and are excited to be able to bring you Rebecca's sound eating advice to help you optimize your health, enjoy eating and get the most out of your workouts. We hope you will check out her post below and look forward to learning more from her. If you are in need of more guidance when it comes to nutrition, her comprehensive course, "Nourished & Fit" teaches you everything you need to know in order to lose weight, increase your energy, and balance your hormones (while enjoying delicious food of course)! Along with the course you will be invited to monthly group calls and a private Facebook community of amazing, supportive women. Please check out this link here to learn more (be sure to use the code 'JSTV' for a 30% discount).
Hi! I'm Rebecca, a registered dietitian, and I help women learn to balance their hormones to achieve their best weight while enjoying delicious food.  My own struggles with weight loss and dieting have inspired me to help my fellow females learn the truths and misconceptions about cravings, self-care, food, and how to optimize hormone levels so that they can lose weight for good while living their best lives.  
Does it sound odd for a Dietitian to tell you that "dieting" is actually preventing you from reaching your weight loss goals?
Most of the ladies I work with (and I myself!) are recovering professional dieters.  We tried all of the popular diets as they came into fashion.  There were low-carb, low-fat, high-fat, low calorie, juicing, fasting, shakes, etc.  We tried them all.  Sometimes we lost weight during the diet and then gained the weight back when we eventually quit.  Sometimes we would find a way to gain weight on the diet.  But, consistently, no matter what the "diet of the day" was, it never helped us lose weight and keep it off forever.
If that sounds like you too, keep reading.
Here are the top 3 reasons dieting won't help you lose weight (or at least lose it, and keep it off):
#1: The Diet Isn't Enjoyable
The number one sign a diet won't work in the long run is that it isn't enjoyable.  Many of us tend to think of diets as temporary fixes.  We think that if we can just stick with the horrible diet plan long enough to lose the weight then somehow, magically, we will be able to keep the weight off forever.  The truth is that if we don't learn how to enjoy a healthier, weight-loss sustaining lifestyle, as soon as we stop the painful diet, our old habits will creep back in and the weight will creep back on.
#2: The Diet Doesn't Fit into Your Life
Sometimes the diet is enjoyable, but it requires so much time and energy planning meals, shopping for odd ingredients, or food prepping that there's no way you can stick with it long-term.  Other times it might be a simple plan where you drink shakes or eat food that's delivered to your house, but maybe you love to eat out with friends and the diet doesn't allow for a fun social life.  Other times the diet may require you to track every detail of your foods and calculate nutrient percentages and you may not be a tracking kind of person.  For a diet to work long-term it has to fit in with the way you like to live (and eat).
#3: The Diet Doesn't Work for Your Body
The final problem that I see with so many popular diets is that they simply aren't good medical advice– especially for women.  Cutting all carbs, fasting for days, high fat plans, very low calorie plans, and so many other popular options out there prey on our desires to lose weight fast, but in the long-run they can actually cause harm to our bodies and lower our metabolisms so when we go back to eating the way we had been before we end up heavier than ever.  Many of these plans cause us to lose water weight so it seems like we are getting slim very quickly, but as soon as we start to eat more normally the weight comes back with a vengeance.  Many plans cause our bodies to use healthy tissue (like muscle) for fuel to survive.  This leaves us with a slower metabolism, so when we stop the diet we end up heavier than ever.  Some plans cut out entire food groups that are not only enjoyable but nourishing (and sometimes necessary) for health.
RELATED: 3 REASONS TO STOP LABELING FOOD AS GOOD OR BAD
If diets don't work, how can we actually lose weight and get healthy?
Find a healthy, weight-loss promoting lifestyle that you love! 
Instead of searching for a diet, why not look to adopt what I like to call a 'lifestyle plan'? A lifestyle plan should include enough food to keep you full and satisfied with great energy.  It should include your favorite foods and delicious foods to keep you happy.  It should fit into your life so that you don't have to stress about what to eat and when to eat.  Your lifestyle plan should allow for a fun social life and vacations.  It should feel enjoyable and easy and you should be able to maintain it forever without feeling sad or deprived. 
You can start with simple shifts, like beginning your day with a nourishing breakfast or trying out a healthy dessert recipe.  Figuring out how to cut even 100 calories per day can lead to a 10 pound weight loss over the course of a year.  Another great goal would be to incorporate extra veggies throughout the day.  Whether you're snacking on carrots, adding peppers to your breakfast scramble, piling lettuce onto your lunch sandwich, or sneaking spinach into your smoothie, veggies fill you up with healthy fiber and tons of hormone-balancing nutrients to help you lose weight while boosting energy so you feel amazing.   
We would love to help you find a healthy lifestyle that you love.  Please let us know if you have any questions about healthy eating or exercise!  We will be creating some question and answer videos for you soon and maybe we'll highlight your question.