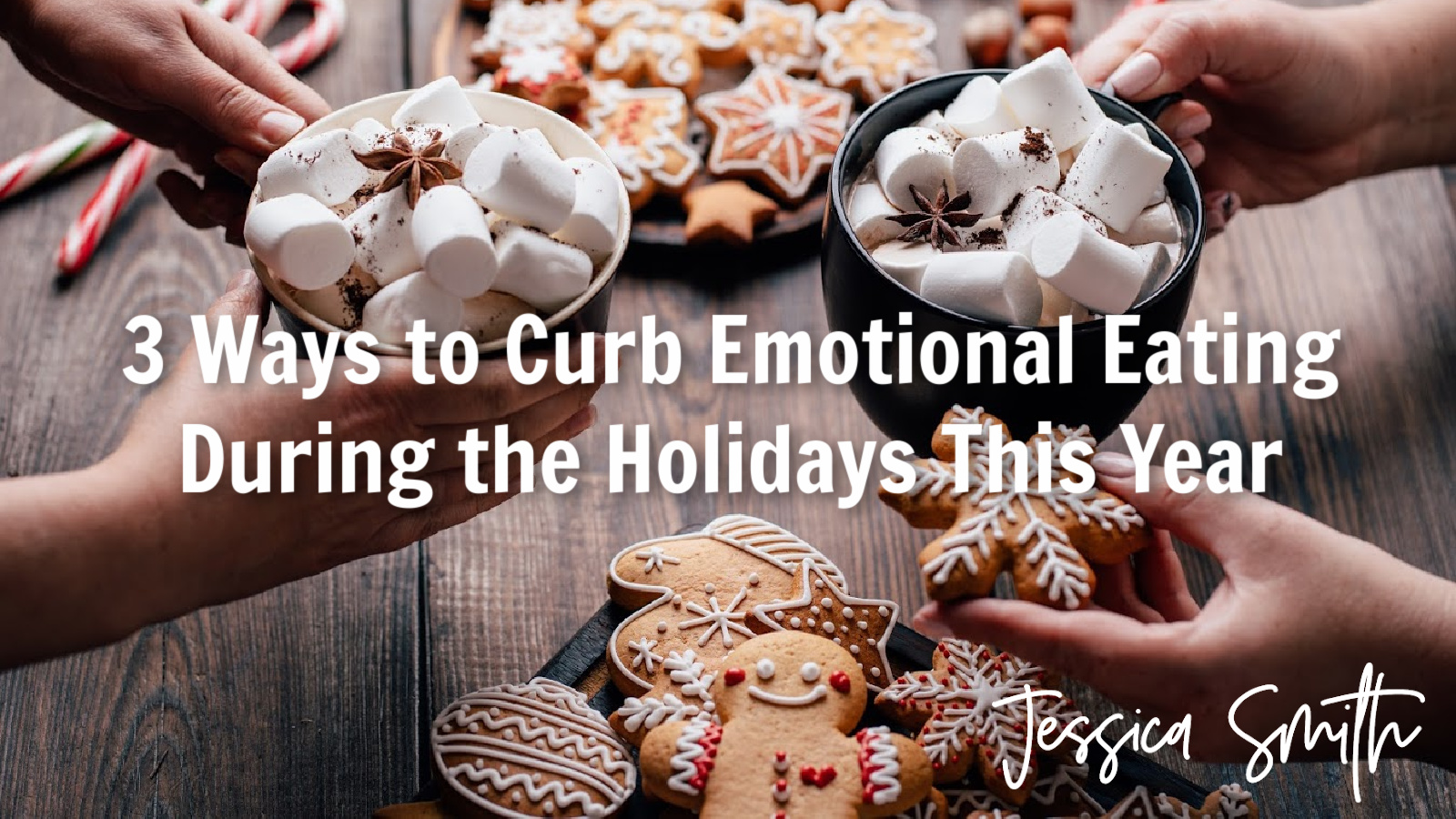 We are excited to share this special guest post from Rebecca the Dietitian! We recognize how much the way you fuel your body influences your exercise results, and are excited to be able to bring you Rebecca's sound eating advice to help you optimize your health, enjoy eating and get the most out of your workouts. We hope you will check out her post below and look forward to learning more from her. You can learn more about Rebecca, her philosophy and her services on her website, RebeccatheDietitian.com.
Hi! I'm Rebecca, a registered dietitian, and I help women learn to balance their hormones to achieve their best weight while enjoying delicious food.  My own struggles with weight loss and dieting have inspired me to help my fellow females learn the truths and misconceptions about cravings, self-care, food, and how to optimize hormone levels so that they can lose weight for good while living their best lives.  
Have you had the urge to indulge a bit extra this holiday season?  We want you to know that you're not alone. 
This year has been exceptionally challenging for most of us and sometimes these emotions can feel amplified during the holidays. Maybe you're feeling isolated and missing some of the events and get-togethers that you usually enjoy this time of year. Or, maybe you're feeling a bit too much togetherness trapped inside with your family. 
Regardless of the stresses of the season, it can feel very tempting to eat or drink extra to help you cope.  And we totally understand and support you in enjoying these fun indulgences when you reeeeaaally want them. But, if you don't want to get sucked into the emotional eating holiday trap only to have to "start again" with your healthy routine in January, here are our top 3 tips to enjoy a healthier holiday season:
1) Eat mindfully.
Indulging in decadent food can be a fabulous part of the fun of the season. But gorging in mediocre food until you feel sick, bloated, and tired isn't as lovely. When you come across a less-healthy option, consider whether or not you really want it. Is it your favorite? Do you want it right now, or maybe later? How much of it would make you happy? Do you want to share it with someone else who might enjoy it? Do you know someone who might enjoy it more than you would, and if so, how would it feel to give it away? If you decide you really want it, then enjoy every bit of it. Eat it slowly so you can really feel the texture and taste the nuances in the flavor. And when you're finished, move on back to your healthy routine with no remorse (guilt never helps).
RELATED: 3 Reasons to Stop Labeling Food As 'Good' or 'Bad'
2) Practice gratitude.
Hopefully you can find something to be grateful for each day. Starting your day with a practice of noticing what you can be grateful for and finishing your day thinking about the things that went well can go a long way when it comes to helping us find our joy when life gets challenging.
RELATED: Top 10 Quotes on Gratitude and Giving Thanks
3) Schedule time for self-care.
This can be a busy time of year, so be sure you schedule in some time to do things that make you happy. Could you use some alone-time to take a bath, read, or watch Hallmark movies? Do you always feel recharged after a walk outside? Would you be sad if you missed out on a drive around town to see the decorations? Be sure to make time for the things you love the most.  You take such great care of everyone else – make sure you get some self-care too!
RELATED: 3 Positive Body Image Exercises to Try Today
We hope this keeps you make the most of your healthy, happy holiday season. We can't wait to celebrate the new year with you!
How do you stay healthy and happy during the holidays? Please share with us in the comments below.