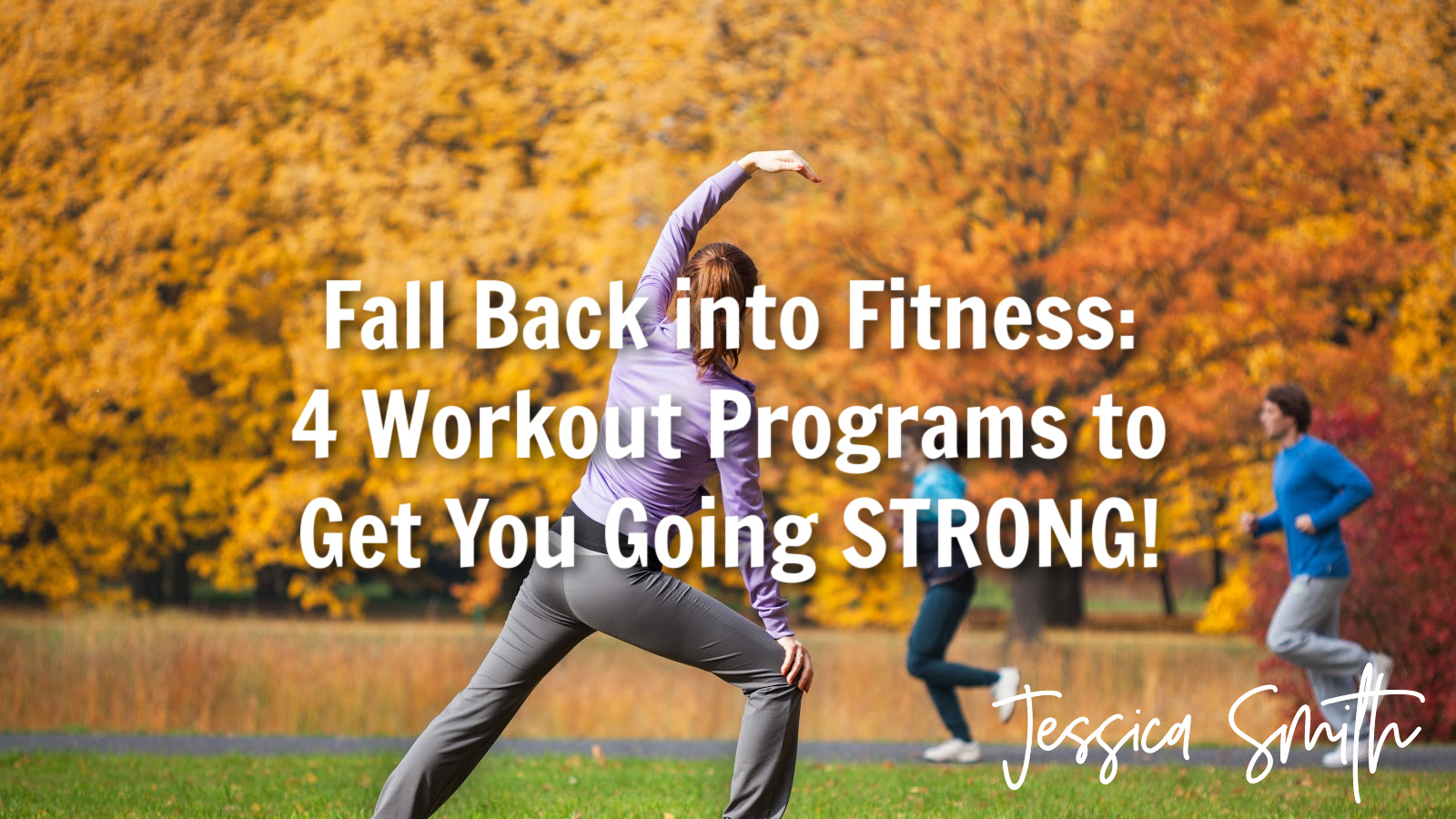 Need help getting back into a workout groove?
We're here to help!
Are you feeling overwhelmed by all of the workout choices out there? Not sure where to start (or how to continue) to reach your goals? We're here to help!
Fall is the perfect time of year to refocus on your fitness, and these four programs can help take the guesswork out of your workout programming, and get you back on track with a specific, sequenced schedule that you can easily adjust to meet your needs:
#1: [FREE] Fall Back Into Fitness 5-Day Rotation
Need help just getting back into a routine again? Jumpstart your workout week with this simple, five-day training schedule. Feel free to start with the first workout in this YouTube playlist as Day 1, then do workout two as Day 2, and so on. You can adjust it based on your needs and preferences, spreading out the sessions as you see fit. Repeat the schedule for as many weeks as you'd like to help re-establish your exercise habit.
"Perfect pace to get back into my routine after a long break!" – Amanda

#2: Our "Walk Strong" program!
Ready to commit to a 6-week plan of action? If you haven't joined us for our "Walk Strong" journey yet, you don't want to miss out on this program! Our most comprehensive plan available, this series includes cardio, strength, mobility, core, brain fitness, and prehab work for a balanced rotation that covers all the bases. This four-phased, progressive program provides plenty of options and ways to continue your training with room to grow! The videos in this series are available on DVD and in digital format.
"Jessica makes me actually look forward to working out. I know I'll get a good workout, without hurting myself. She has such positive energy and keeps things fun. I appreciate that her goal is keeping you healthy and happy. She has modifications for whatever level you're at. Jessica puts a smile on my face and makes my body feel good. She has free videos on YouTube that are great-but these are her best." – Meg
Get access to this program and more with our new "All Access Pass!" But please don't wait – our special pricing offer ends 11/15/22, so be sure to lock in your annual rate now!
#3: [FREE] Calm + Strong Plan:
Is this a more hectic time of year for you? We've got you covered! Our four-week "Calm + Strong" plan is designed to help you positively channel your energy and training during a more stressful time. Use our suggested 4-week schedule with our free YouTube videos and/or combine it with some of your DVD or digital library options.
"I started this challenge.. I enjoyed it so much. It has been fantastic to rediscover my favorite routines and be introduced to some new ones (to me). I am definitely calmer and stronger than I was 4 weeks ago." – Jackie
#4: *NEW* Strong + Centered Series:
Ready to create more energy and balance? The changing of seasons (both in our lives and in the calendar) is the perfect time for our newest program, "The Strong + Centered Series." This series includes a mix of fusion-style barefoot routines, focused, full-body strength work, plenty of steps in the sunshine, plus relaxing stretch sessions to help release body and mind to create abundant energy, strength, and a calm center. (CLICK HERE to download the free printable calendar to view the rotation; the videos in this series are available exclusively in DVD* and digital format). *DVD customers, please be sure to 'apply promotion' in order to add the 6th DVD, "Stretch and Relax" to your order with this program bundle. We regret we cannot make changes or provide service for any Amazon DVD orders.
"The focus is more on strength.. and there is such a thoughtful balance to the types of workouts and movements. Jessica has a beautiful, encouraging, positive spirit. I'm in my late 50's and have had some joint issues, but Jessica provides modifications and keeps me challenged while not overtaxing me. I've been a fan for years, and she just keeps getting better."
Get access to this program and more with our new "All Access Pass!" But please don't wait – our special pricing offer ends 11/15/22, so be sure to lock in your annual rate now!
**BONUS: Our 2022 YouTube Workout Playlist
Want to put our newest YouTube workouts together into one workout rotation? Our 2022 Workout Schedule Playlist helps you rotate through all of our most recent videos. This suggested schedule allows you to cycle through the sessions in order, based on the days you want to train. Do the first video for your Day 1 (Sunday or Monday), second for your Day Two, etc. Feel free to add in a rest day anytime you wish, but know that this suggested rotation also builds in ample recovery time for you to help you make the most out of each week! Save and share the playlist here on our channel (thanks for remembering to like and SUBSCRIBE!).
Whatever program or plan you decide to try, please just remember to focus on progress over perfection. You don't have to follow along with any schedule exactly as written, and you never have to start over if you miss a day or two, etc. Adjust, adapt and make it work best for you. Stay focused on what you CAN do each and every day, even if it's just a short 15-minute walk around the block. Every little bit counts!
You got this! Can't wait to get moving with you soon. 🙂
– Jessica
"Life starts all over again when it gets crisp in the fall." – F. Scott Fitzgerald
Get access to these programs and more with our new "All Access Pass!" But please don't wait – our special pricing offer ends 11/15/22, so be sure to lock in your annual rate now!