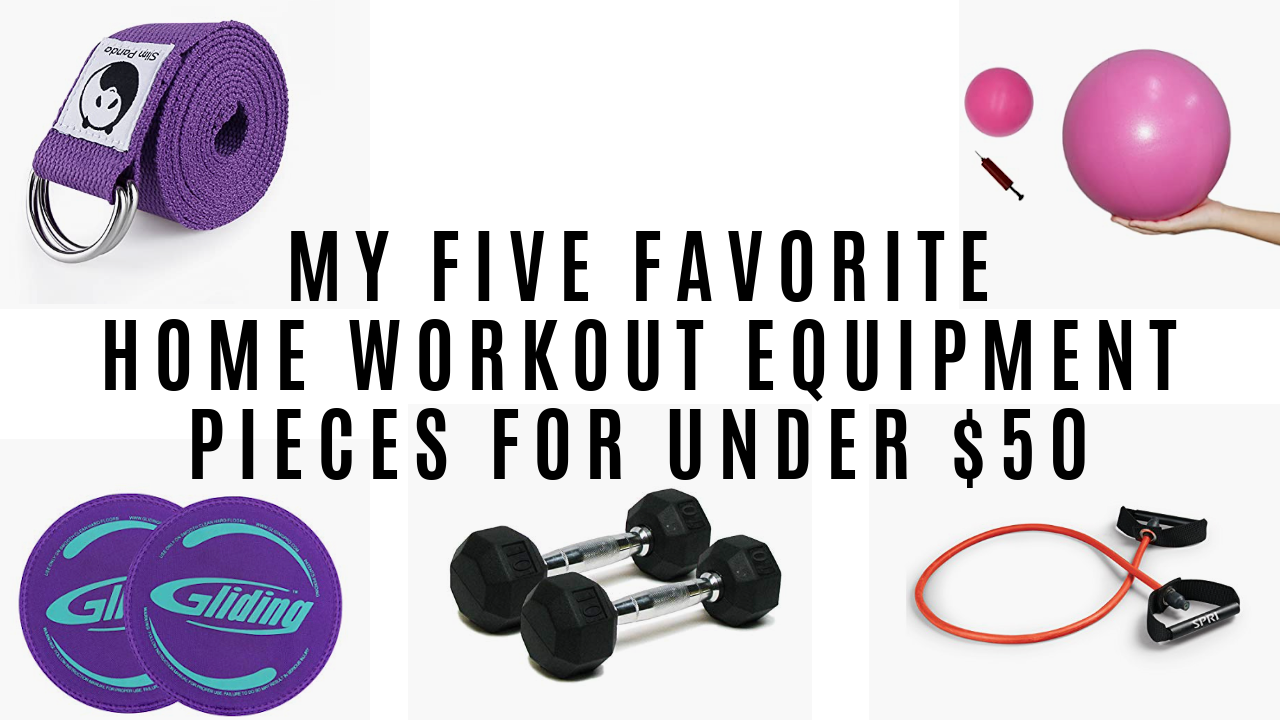 You can absolutely work out at home without spending a dime (and we tons of no equipment needed workout videos available to prove it!). But if you have been exercising in your home space for a while, you may want to consider investing in a few simple equipment pieces to enhance your training. (These can make great incentives for workouts completed to help ensure you'll make the most out of your purchase and regularly put it to good use).
Here are my five favorite home workout equipment pieces for under $50 (you'll likely see many of these in our workout videos!):
I'm including links below to where I purchased these items on Amazon.com, but you can find these at other retailers or even keep an eye out for them at yard sales, etc.
You can also find ALL of my favorite items on Amazon (including some of my workout tops, home storage for fitness gear, series-specific equipment lists and more) here on my Amazon page: https://www.amazon.com/shop/jessicasmithtv
#1: Small, soft ball – $12.99, Amazon.com
I love using this small, versatile tool to help amp up all core-centric movements in a variety of different ways. While a large stability ball can be helpful, I find this smaller-sized, non-weighted ball is much easier to store (I even throw it into my bag if I'm traveling) and pop into a workout almost anywhere.
Already have a small ball? Put it to good use with all of our small ball workouts! You can find small ball workouts in your membership library here.
#2: Towel or yoga strap – $7.99, Amazon.com
If you have a longer towel (beach towels usually work great!) at home, you may not need a strap, but if you find it harder to navigate some moves with a towel, a strap may be worth purchasing. The idea of using a towel or strap is simply to allow you a bit easier reach, ease of movement, and range of motion with certain poses or positions, but it should never be used to pull or force your body into a stretch.
You can find us using a towel or strap in these sessions here.
#3: Resistance bands – $8.49, Amazon.com
I'm a big fan of bands, especially for travel workouts. Resistance bands are super portable, but they also offer an excellent way to challenge your muscles beyond bars or dumbbells (and, good news, they are just as effective at building and maintaining strength!).
Bands come in various shapes, sizes, and lengths, so you may need to experiment to find what works best for you and your preferences. I like using flat bands and tubing handles, as both offer great options for various movements and sessions. (The only downside is that with regular use, you may need to replace your bands over time — I've had more than a few break on me over the years, though these therabands here are proving pretty durable so far!).
You can find several sessions incorporating a resistance band available in your library here.
#4: Dumbbells – $44.99 (for 10 lb pair), Amazon.com
If you are serious about strength training at home, you may want to consider investing in several sets of dumbbells. Once you know what weight(s) you'll be using regularly, you may wish to purchase one to two sets over time to spread out the cost.
We recommend one light-to-you (for smaller muscle groups like your arms, shoulders, and upper back) and one heavy-to-you (for larger muscle groups such as the chest, back, and legs) for most of our strength routines. However, over time, you may want to include an in-between/medium set that you can drop down to if your heavy weights are too heavy and your light is too light. (If you are looking for something to provide a full range of weights to help you keep making progress as you gain strength and are ready to make the investment, these adjustable dumbbells help put a full rack of weights into just one pair).
We have tons (almost every strength training session we do uses dumbbells!) in any of our strength programs available in your library here.
#5: Gliding discs – $15.89 (for 2 pair), Amazon.com
You probably already know how much I love gliding discs because they are a simple way to make even the most basic exercises more challenging, maximize your core engagement and strengthen the brain-body connection. And, you can easily make your own sliding tools using small soft cloths or paper plates at home if you aren't ready to buy a pair yet. However, if you enjoy the discs and know you'll use them regularly, it may be worth investing in a pair that works best for your flooring (I like these best for carpeted surfaces and these for hard floors). Side note: I often use my gliders in my workout space that has a mat for the flooring (see below), so I have to switch up the surface a bit by moving a portable carpet into the area to use for the sliding moves in order to make the discs work. (I have yet to find a gliding tool that works well on mats, but if you have, please let me know about it!)
You can find several sessions using gliding discs here in your library.
Remember, the most essential piece of any exercise routine is consistency, so there's never any need to spend a lot of money or buy a lot of gear to get a good workout at home or anywhere else.
Focus on doing the best you can with what you have each and every day.
Already have the pieces mentioned above? Are you ready to invest a bit more into your equipment library? Here are a few pricier picks that I also enjoy using:
The half step – $74.99, Amazon.com
While a whole step is excellent, too, I prefer using this half-sized edition simply because it takes up less space, uses fewer risers, and is so much easier to store, and I find I can do almost as much with it as it's longer counterpart.
Extra Large Square Mat – $135.99 (for pink), Amazon.com
This one is definitely an investment, but since I often get asked about it, I wanted to share this larger pink mat I use in my home workout space to protect my floor and 'designate' my workout area. I love it so much over the years I have purchased both the pink and black editions (you've probably since both in a few videos).
Storage Ottoman – $192.54, Amazon.com
Ok, this one isn't necessarily used in your workouts, but it's a piece of 'equipment' I still recommend investing in if you have a home workout space that you use regularly. I have this particular ottoman in my workout area, and I love that it easily holds all my dumbbells, bands, discs, yoga mats (and more!) out of sight. Finding a simple but attractive storage solution for all your gear can go a long way in keeping your fitness space organized, clean, yet easily accessible (especially if you workout in a living room, bedroom, or office area in your home). Speaking of your fitness space, if you need some organization and decor ideas, you can find some of my faves here.
Oh, and if you don't already have a pair, I highly recommend using gloves if you are starting to lift heavier weights. They typically sell for $20 or less and can help you improve your grip without extra stress — here's a favorite of mine: weight lifting gloves – $14.23 (for medium-sized pink pair), Amazon.com.
Tell me, what equipment do you like using most for you at home workouts?
Please note: As an Amazon Associate, we earn from qualifying purchases. These are affiliate links, meaning we will receive a small commission from the manufacturer if you purchase a product (at no additional cost to you).