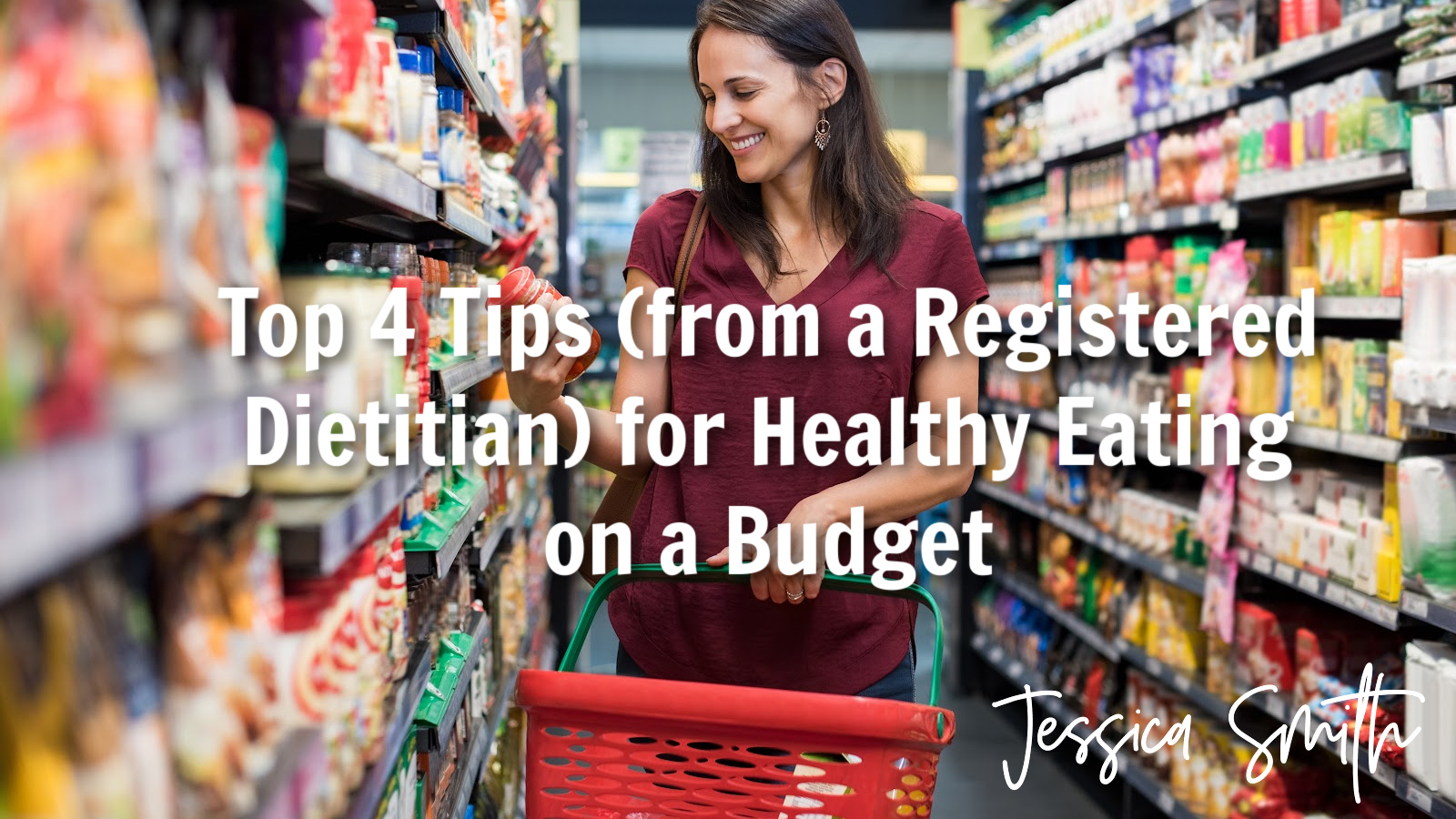 We are excited to share this special guest post from Rebecca the Dietitian! We recognize how much the way you fuel your body influences your exercise results, and are excited to be able to bring you Rebecca's sound eating advice to help you optimize your health, enjoy eating and get the most out of your workouts. We hope you will check out her post below and look forward to learning more from her. If you are in need of more guidance when it comes to nutrition, her comprehensive course, "Nourished & Fit" teaches you everything you need to know in order to lose weight, increase your energy, and balance your hormones (while enjoying delicious food of course)! Along with the course you will be invited to monthly group calls and a private Facebook community of amazing, supportive women. Please check out this link here to learn more (be sure to use the code 'JSTV' for a 30% discount).
Inflation, right?! I think we have all noticed the rising cost of basically everything lately, including food. I've heard people say that healthy eating is too expensive, and I understand how it may seem that way. Marketing will tell you that you need $12 green juice and $100 supplements, along with recipes that can cost $50 for the ingredients (along with the cost of hours of your time) – this is not a sustainable plan for most of us. Meanwhile, fast food seems convenient and more affordable (although that "dollar" menu price sure adds up when you get everything you need to fill you up). What's a girl to do?
I'm here to offer you some tips to stick with your healthy eating plan without breaking the bank:
#1: Substitute some of your animal protein for plant protein.
You don't have to become vegan, but planning a meal with less or no meat here and there can really help your budget. Try throwing lentils into your red sauce instead of ground beef to get lots of protein and fiber for a lot less money. Enjoy a taco or burrito night where the animal protein is just a small part of the meal, along with beans and other fun toppings like salsa and rice. You could also try a veggie stir-fry or a fajita night, or other fun meals where you can center the fun around the veggies and grains instead of the meat and chicken. (Here's a list of bean-centric recipes recommended by the Mayo Clinic). 
RELATED: 3 TIPS FOR SPRING CLEANING YOUR HABITS
#2: Choose frozen foods.
Frozen fruits, veggies, and animal proteins are just as healthy (in fact, sometimes more healthy) than their fresh alternatives. Frozen fruits and veggies tend to be picked when riper than many that land in our fresh produce areas, making them tasty and more nutrient dense. The freezing process doesn't seem to diminish the nutrient content. Frozen meat, chicken, and seafood are often significantly more affordable and can be very convenient because you don't have to worry as much about it going bad quickly. Seafood in most grocery stores was actually previously frozen and then thawed to be placed in the "fresh" seafood section, so it certainly makes sense to buy it frozen and thaw it when you want to eat it. Buying frozen foods and thawing the amount you want whenever you want will hopefully help with food waste which saves lots of money too!
RELATED: EATING WELL BECAUSE YOU LOVE YOURSELF (NOT AS PUNISHMENT)
#3: Skip the processed snacks and make some simple swaps instead.
If you watch food prices, I'm sure you know packaged cookies, chips, and other snacks are not cheap. I get that you might want to snack on some savory and sweet snacks, but you can lower your costs while improving your health with some simple switches.  
For affordable and healthy salty snacks, you could buy a big container of popcorn kernels and pop them yourself. Here's my favorite simple recipe that is SO good you won't miss the chips! You can also buy potatoes or sweet potatoes and dice them or slice them and roast them as a snack. Here's a blog post where I tested different methods for making sweet potato chips. I also enjoy corn on the cob simply cooked in the microwave as a snack.
If you want sweet, affordable snacks, you could try a simple baked (or microwaved) apple with cinnamon.  You could make a healthy Snickers by stuffing a date with some peanut butter and a few chocolate chips. You can make seriously good healthy non-dairy soft serve or milkshakes by blending frozen bananas with a splash of your favorite milk (less for ice cream and more for the shake). Have fun, and add any other mix-ins or flavors that you like. Here are 100 more healthy and affordable sweet options to check out.
RELATED: THIS IS THE #1 THING TO FOCUS ON FOR WEIGHT LOSS (HINT: IT'S NOT WHAT YOU THINK)
#4: Stick to your plan.
I don't know about you, but I have been known to run into the store for a few items only to find myself leaving with a cart full of expensive impulse buys. Most of us could save a lot of money (and calories) simply by making a food plan for the week and sticking with that plan when we go to the store.  
You could even check online to see what's on sale when making your plan. Imagine taking the time to think ahead, figure out what you want to eat during the week, going to the store with a list so that you have everything you need, and then maybe even doing some meal prep before the week's madness begins. It feels so good for most of us to head into the week with a plan. And this will save you money on impulse buys and decrease expensive food waste. It will also help you avoid grabbing expensive emergency take-out food or even more expensive delivery. This way, you can save your money to have fun eating out at a nice restaurant when you will truly enjoy it.
I hope these tips help you stay physically and financially fit this month. And please share your best tips for healthy eating on a budget with us in the comments below!