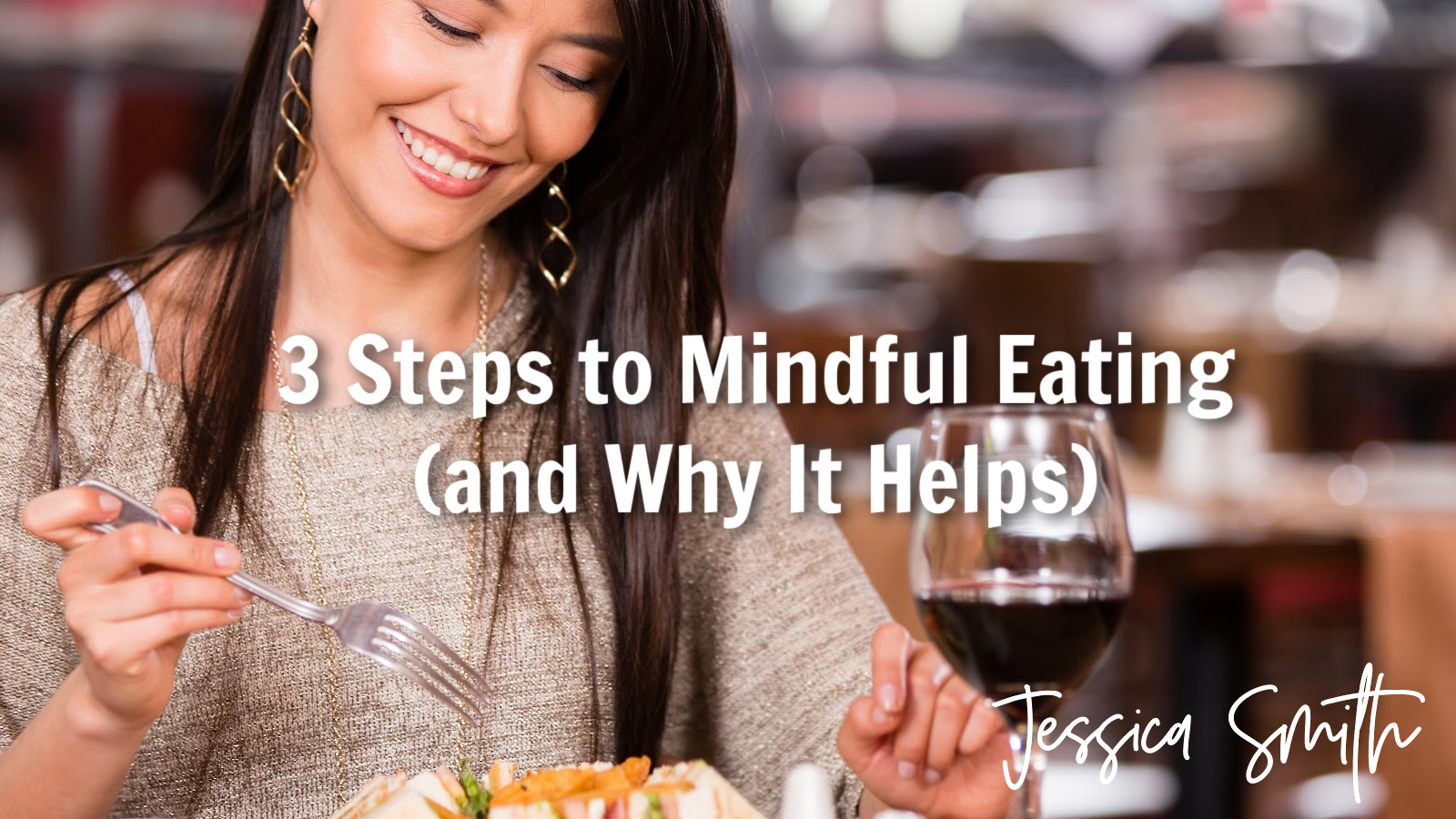 We are excited to share this special guest post from Rebecca the Dietitian! We recognize how much the way you fuel your body influences your exercise results, and are excited to be able to bring you Rebecca's sound eating advice to help you optimize your health, enjoy eating and get the most out of your workouts. We hope you will check out her post below and look forward to learning more from her. If you are in need of more guidance when it comes to nutrition, her comprehensive course, "Nourished & Fit" teaches you everything you need to know in order to lose weight, increase your energy, and balance your hormones (while enjoying delicious food of course)! Along with the course you will be invited to monthly group calls and a private Facebook community of amazing, supportive women. Please check out this link here to learn more (be sure to use the code 'JSTV' for a 30% discount).
3 Steps to Mindful Eating (And Why It Helps)
You may have heard the term 'mindful eating' and wondered what it is all about. According to the American Diabetes Association, "Mindful eating (i.e., paying attention to our food, on purpose, moment by moment, without judgment) is an approach to food that focuses on individuals' sensual awareness of the food and their experience of the food." 
Mindful eating can be a helpful tool in learning to make food decisions that leave us feeling healthier and more energetic. It can also be a valuable tool in learning to eat more intuitively to meet our body's needs. This article aims to give tips for starting a fun, mindful eating journey.
Step #1: Notice With No Judgment
The first step to eating more mindfully is to pay attention to everything going on when you eat. There's nothing wrong, and there's no reason to criticize yourself. The purpose here is just to observe. You can take notes in a journal or just simply pay attention. Here are some examples of things to consider:
Why are you about to eat?
How hungry are you? Are you craving something specific? Are you feeling any emotions? Did you see a food that you wanted to eat?
What is the experience of eating?
Before you start eating: What does the food smell like? What does it look like? What do you think it's going to taste like? What's your past experience with this food? Do you have any emotions specifically related to this food?
While you're eating:  What does the food actually taste like? Is it as good as you thought it would be? What's the texture? What happens if you chew it for a long time? 
After you're done eating:  How full are you? If you are overly full, why do you think that happened? Did the food make you feel good? If you don't feel good, why do you think that is?
Step #2: Consider What You Can Learn From Your Observations and Make a Plan of Action
Next, you can consider everything you learned about why you eat, when you eat, what you eat, and how you eat (without judgment). Is there anything you learned that might help you make healthier choices in the future?
For example, if you notice that you tend to overeat when you are very hungry at the start of a meal, then you might have a healthy snack before the meal so that you're not starving when your meal begins.  
You might also notice patterns of behavior where you could change the pattern. For example, you might notice that every time you come home from work stressed, you intend to have 1 glass of wine but end up drinking the whole bottle and feeling tired the next day. The purpose of the wine that day was to help you relax. Consider what else you could do to relax. Does the idea of a gentle walk after work feel good to you? What about a hot bath? How about hot tea?
Another thing I often notice when I'm eating more mindfully is that a not-so-healthy food that I think will be delicious (usually because I've loved it since childhood) isn't so great when I really pay attention to the taste and texture. One example is peanut butter cups. They still taste good, but if I really pay attention, it's not as great as I remember when I was a child. The chocolate is a bit waxy. I now prefer better quality chocolate with a bit of natural peanut butter. I'm also more satisfied with a healthy, filling alternative like chocolate peanut butter oats.
Step #3: Observe Your Plan in Action and Make Adjustments as Needed
Continue to be mindful of your choices as you implement the plans you came up with in step 2. Is the plan easy? Is it working? How does the plan make you feel? Proud? Deprived?  
Of course, if you feel happy, satisfied, and proud, then carry on! If you feel sad, hungry, or deprived, try implementing a new plan that makes you happy. A plan won't work in the long run unless you are genuinely at peace with it.
We hope that this dive into mindful eating helps you learn a few things about how and why you eat that will get you closer to optimal health.
Please let us know if you have any mindfulness tips in the comments below!
MORE HELPFUL POSTS FROM REBECCA: 
WILLPOWER AND WEIGHT LOSS: TOP 3 TIPS TO HELP OPTIMIZE YOUR SUCCESS
3 SIMPLE TIPS TO HELP YOU FEEL AND LOOK YOUR BEST THIS SUMMER
HOW TO LOSE WEIGHT 'FAST' (NO CLEANSES OR CRASH DIETS REQUIRED!)
EATING AND EXERCISE: WHAT TO EAT BEFORE, DURING AND AFTER YOUR WORKOUT FOR BEST RESULTS