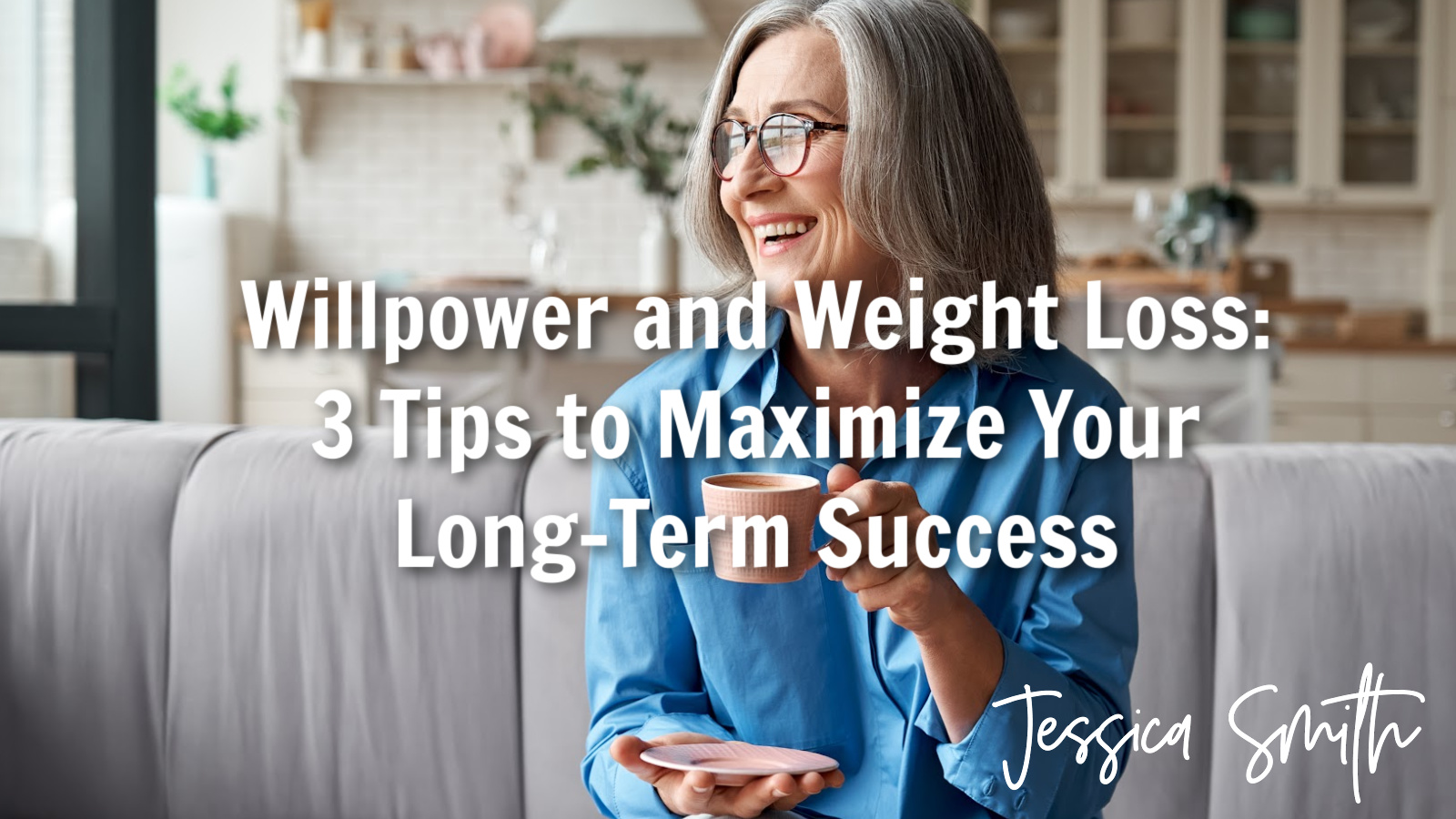 We are excited to share this special guest post from Rebecca the Dietitian! We recognize how much the way you fuel your body influences your exercise results, and are excited to be able to bring you Rebecca's sound eating advice to help you optimize your health, enjoy eating and get the most out of your workouts. We hope you will check out her post below and look forward to learning more from her. If you are in need of more guidance when it comes to nutrition, her comprehensive course, "Nourished & Fit" teaches you everything you need to know in order to lose weight, increase your energy, and balance your hormones (while enjoying delicious food of course)! Along with the course you will be invited to monthly group calls and a private Facebook community of amazing, supportive women. Please check out this link here to learn more (be sure to use the code 'JSTV' for a 30% discount).
Merriam-Webster defines 'willpower' as "the ability to control one's own actions, emotions, or urges." If you have been relying on your willpower in order to be able to reach your goals, you may want to reconsider your strategy. Think about it: how many times have you learned about a new diet or fitness program and committed 100% of your effort and energy into the plan? Maybe this works for a while, but then eventually life gets in the way and you find that you just can't seem to stay on track.  You might be too busy or too tired or too miserable and before you know it you're back to your old routine.  If you can relate to this scenario, then read on to learn some tips to optimize willpower, motivation, and long-term success:
Tip 1:  Set Realistic Goals
Psychologists have discovered that we humans only have so much capacity for will power, or making tough decisions.  This means that we may wake up feeling strong in our convictions and it might even feel easy to choose a healthy breakfast that's on our new diet plan.  The problem is that after putting out fires all day long making decisions about life's stressors our capacity to harness will power is actually fatigued and it's much more challenging to stay on track.  When we abandon our rigid goals, we feel frustrated with ourselves and it's very tempting to give up on our hopes of ever sticking to our goals.
One way to help this situation is to set simple, realistic goals.  For example, if you currently drink a few alcoholic beverages every night and you're in the middle of 4 big house projects with family coming into town it might not be realistic to stop drinking alcohol cold turkey.  It might be better to commit to choosing 1 drink and then switch to sparkling water with lime.  Another option might be to skip the alcohol 2 or 3 nights per week (mark these nights in your calendar and figure out a substitution that makes you happy).
If you have too many challenging goals it will likely be hard to stick with the program long-term.  
Choose no more than 3 very specific, measurable goals and make a simple, reasonable plan to achieve them that seems easily achievable (and then celebrate your success).
RELATED: 3 POSITIVE BODY IMAGE EXERCISES TO TRY TODAY
Tip 2:  Something's Got to Give
When you are adding a new commitment to your already full life, remember that you don't actually have any extra hours in the day.  You are likely going to have to figure out something to change in order to fit in time for new commitments.  Changing your health, whether it's your food or your fitness does require some amount of time and energy.  Where can you realistically find that time and energy to set yourself up for success?
Maybe you can delegate some of your house chores to give yourself some more time.  Can you lighten up your volunteer commitment time?  Is there a bit of television time that you're willing to give up (or food prep while you watch)?  
Remember that for everything you say "yes" to, you're also saying "no" to something else.  Make sure that you prioritize your own health and self care before committing all of your time and energy to taking care of everyone else.
RELATED: 3 WAYS STRESS CAN IMPACT YOUR WEIGHT (AND HOW TO DEAL)
Tip 3:  Manage Your Environment
One final tip for the month is to ensure that your environment is setting you up for success.  For example, if your goal is to eat more vegetables, then make sure there are lots of veggies that you like around and easily accessible.  If your goal is to give up processed sugar for a month, then do your best to ensure that your favorite sugary snacks aren't sitting out on your kitchen counter.  I know that if there is ice cream in my freezer it will end up in my mouth and it will likely be an amount that no ordinary person should consume in one sitting, so, I don't keep ice cream in my house.  If I have to have ice cream around (ie. for a house guest) I will buy a flavor that I don't like.
The better your environment is set up to help you achieve your goals, the less you will need to rely on will power and the more likely you will have long-term success reaching your goals.
RELATED: THE BEST STRATEGY FOR LONG-TERM WEIGHT LOSS SUCCESS
How do you stay on track when life gets challenging?  Please share what helps you in the comments below and be sure to have a fantastic month!
MORE HELPFUL POSTS FROM REBECCA: 
3 SIMPLE TIPS TO HELP YOU FEEL AND LOOK YOUR BEST THIS SUMMER
HOW TO LOSE WEIGHT 'FAST' (NO CLEANSES OR CRASH DIETS REQUIRED!)
TOP 4 NUTRITION SHIFTS TO MAKE THIS YEAR FOR A STRONGER, HEALTHIER BODY
EATING AND EXERCISE: WHAT TO EAT BEFORE, DURING AND AFTER YOUR WORKOUT FOR BEST RESULTS