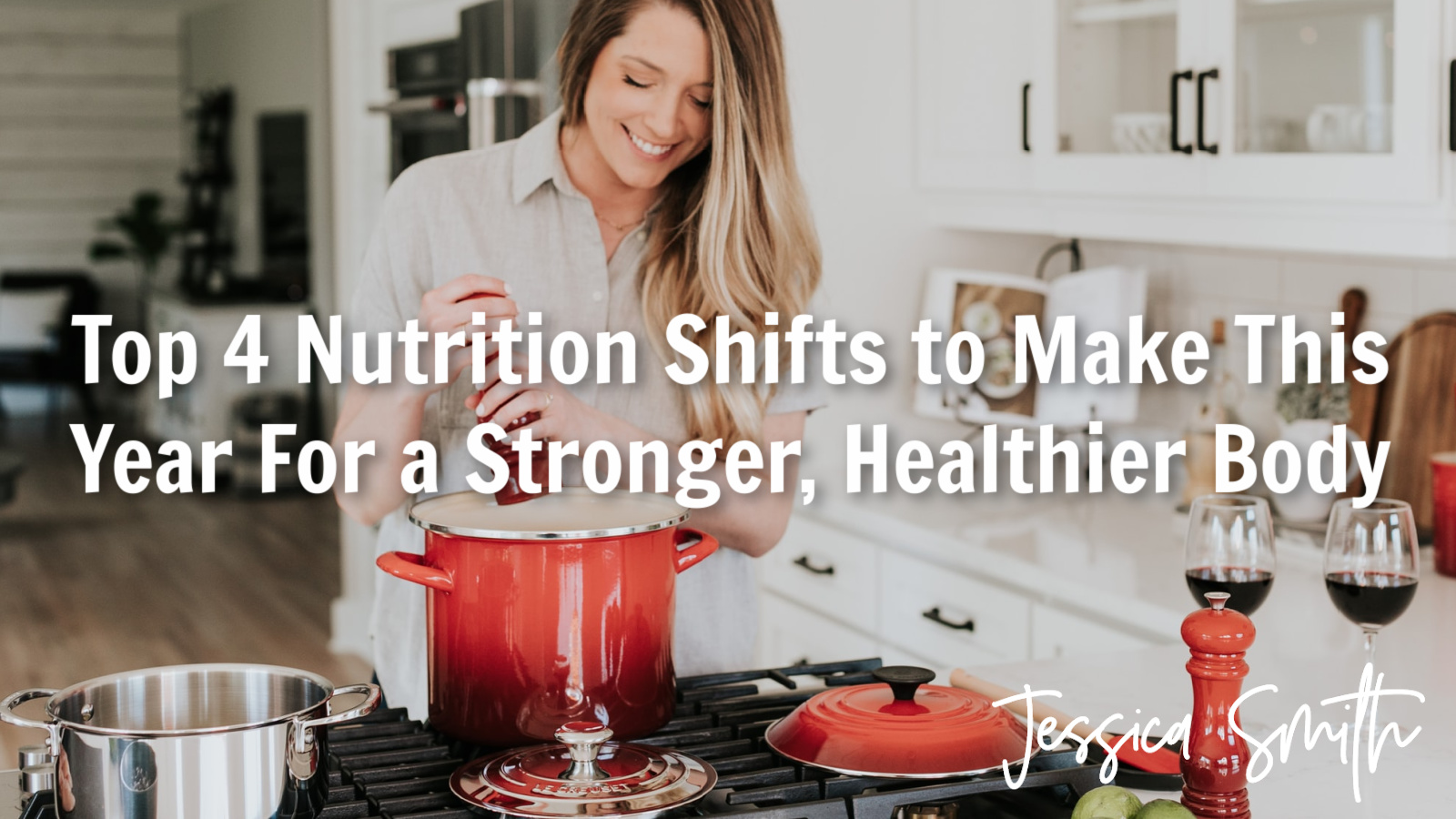 We are excited to share this special guest post from Rebecca the Dietitian! We recognize how much the way you fuel your body influences your exercise results, and are excited to be able to bring you Rebecca's sound eating advice to help you optimize your health, enjoy eating and get the most out of your workouts. We hope you will check out her post below and look forward to learning more from her. You can learn more about Rebecca, her philosophy and her services on her website, RebeccatheDietitian.com.
Hi! I'm Rebecca, a registered dietitian, and I help women learn to balance their hormones to achieve their best weight while enjoying delicious food.  My own struggles with weight loss and dieting have inspired me to help my fellow females learn the truths and misconceptions about cravings, self-care, food, and how to optimize hormone levels so that they can lose weight for good while living their best lives.  
Do you love making goals for the New Year?
I'm a Virgo and a total nerd, so goal setting is my jam.  Whether or not you love making resolutions like me, if you are interested in a stronger, healthier body this year, these shifts are for you.
Shift #1: No Crazy Diets
Don't start a crazy diet program.  It's so tempting to jump on the bandwagon and sign up for some wild food system that promises big results fast.  In fact, the #1 sign that your diet program is not going to work in the long run is that it promises weight loss of more than 2 pounds per week.  Of course with a healthy program you might lose more than that at first, but any reputable practitioner knows that if you lose more than 2 pounds per week for extended time periods you will actually be losing muscle!  That's not our goal here while we're working out with Jessica!  I recently heard someone point out that when we gain 8 pounds in 2 months we feel like we can't believe how fast we gained the weight… but we think it's slow weight loss if we lose that same 8 pounds in 2 months.  I recommend that you try to find a program that encourages slow, steady weight loss that will maintain your healthy muscle mass so that you can keep your weight off for good.
Shift #2: Set Realistic and Motivating (for You!) Goals
Make nutrition goals that are realistic and motivating.  If steak is your favorite food, then it might not be realistic to become a vegan forever starting tomorrow.  If you hate salad, then I wouldn't recommend committing to eat a salad every day.  Can you tell me one thing that you could realistically accomplish that would also make a big difference over the next 2 weeks?  That's a great start for goal setting.  Choose something that inspires you and that you can be super proud that you accomplished!
Shift #3: Hydrate, Hydrate, Hydrate
Stay hydrated!  Nothing in your body works right if you're dehydrated.  A great goal for most healthy people would be to cut your body weight in half and drink that many ounces of water each day.  For example, if you weigh 200 pounds, then you can shoot for 100 ounces of water each day.  This is just a rough guideline, so feel free to adjust to the amount that keeps you feeling your best.  I like to keep a water bottle with me at all times.  I set a goal to finish the first big bottle by lunch and the second by dinner.  I also have a glass in the morning and in the evening.  And, sip on water throughout your workouts, especially if you're getting sweaty!
Shift #4: Seek Support
Get supported!  Making healthy shifts can be challenging.  Let's face it- in our society there are less-healthy options everywhere!  Finding a group of like-minded friends, family members, or online groups can make all the difference.  It's so nice to know that others are doing their best to take care of themselves just like you.  You can share recipes, get support and accountability.  Of course I recommend working with a trainer like Jessica Smith to get your muscles in shape so that you know you're doing the moves safely and in the most efficient and effective way possible.  And, you may guess that I also recommend working with a Dietitian if you have questions about your nutrition.
If you would like extra-special support in shifting your nutrition to get optimal results this year, I would be so honored to work with you. I have put together a fun and super-comprehensive course that teaches you everything you need to know in order to lose weight, increase your energy, and balance your hormones (while enjoying delicious food of course)! Along with the course you will be invited to monthly group calls and a private Facebook community of amazing, supportive women.  Please check out this link for a special price only for the Jessica Smith community. 
MORE POSTS FROM REBECCA:
3 WAYS TO CURB EMOTIONAL EATING
TOP 3 NUTRITION MYTHS YOU STILL BELIEVE THAT ARE KEEPING THE SCALE STUCK
3 REASONS TO STOP LABELING FOOD AS 'GOOD' OR 'BAD'
3 REASONS DIETING IS SLOWING YOUR WEIGHT LOSS