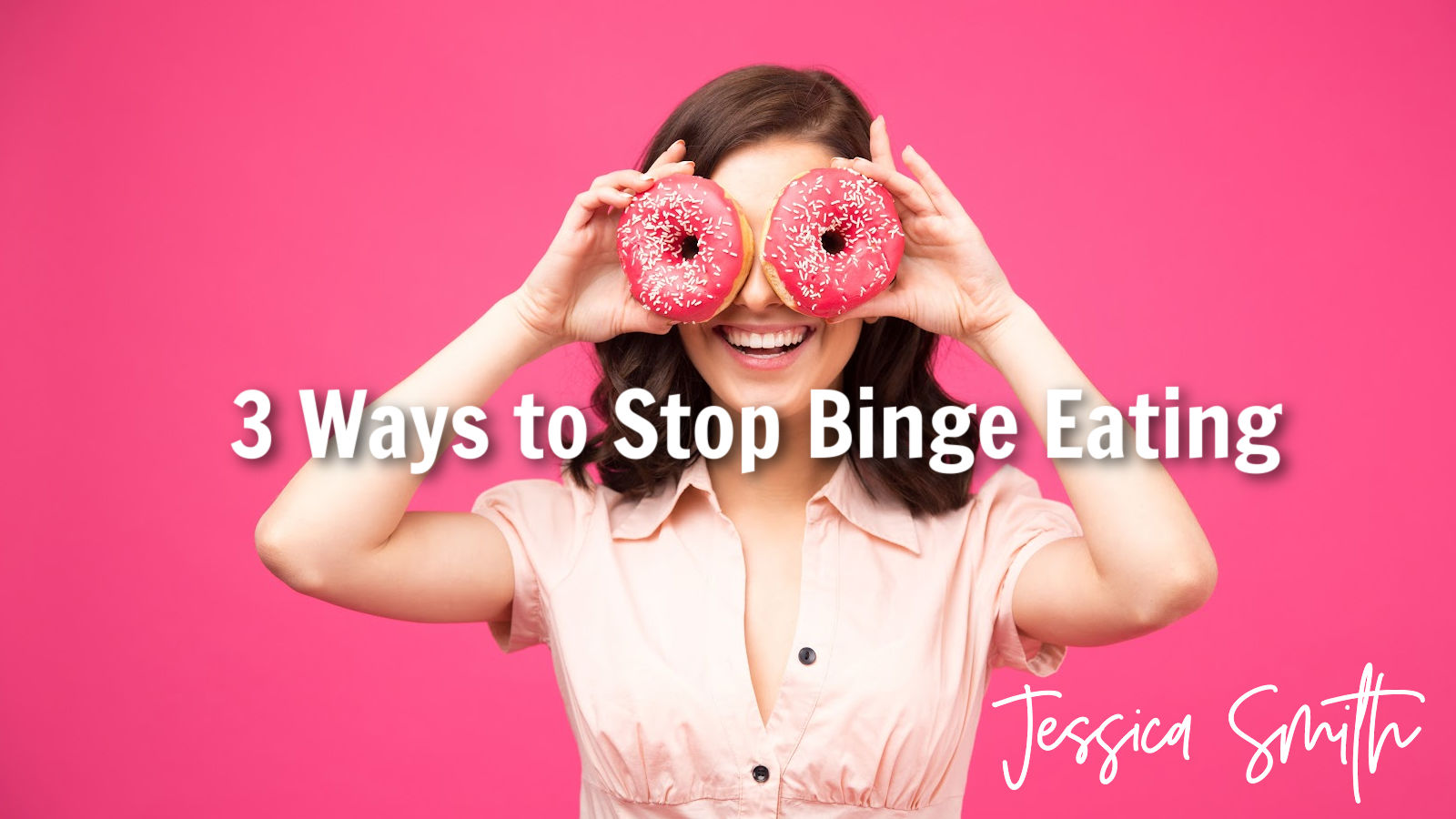 We are excited to share this special guest post from Rebecca the Dietitian! We recognize how much the way you fuel your body influences your exercise results, and are excited to be able to bring you Rebecca's sound eating advice to help you optimize your health, enjoy eating and get the most out of your workouts. We hope you will check out her post below and look forward to learning more from her. If you are in need of more guidance when it comes to nutrition, her comprehensive course, "Nourished & Fit" teaches you everything you need to know in order to lose weight, increase your energy, and balance your hormones (while enjoying delicious food of course)! Along with the course you will be invited to monthly group calls and a private Facebook community of amazing, supportive women. Please check out this link here to learn more (be sure to use the code 'JSTV' for a 30% discount).
Have you ever felt out of control around food? Like you couldn't stop yourself from eating even though you were full? Or, like you promised yourself, you would only eat one serving of chips or cookies, and before you knew it, the whole package was gone? If this sounds familiar, you may have experienced binge eating.   
Most of us have consumed more than a reasonable amount of food at some point. Think about most Americans at Thanksgiving. Overeating or feeling out of control around food is only a concern if it becomes overwhelming, affecting your physical or mental health. 
Binge eating is defined as eating a large amount of food in a short amount of time. You may also feel like you can't control what or how much you are eating.
If you find yourself feeling out of control around food on occasion, don't fret. There are some things that can help you get your control back. Here are 3 tips to help prevent binge eating:
#1: Eat regularly throughout the day.
One of the most common triggers for binge eating is letting yourself get too hungry. Since it takes a while for your body to convince your brain that you've had enough to eat, it's not a great idea to let yourself get ravenous. This is the state where you're most likely to cram a whole lot of food in without thinking about quantity. Your brain is in survival mode, telling you to eat as much as possible. And then, by the time you feel full, it's too late, and you've overeaten so quickly that 20 minutes later, you feel awful.  
Another problem with our physiology when we're famished is that we will crave the most calorie-dense foods available. Your brain isn't going to be impressed by the cucumber salad when there are french fries available if you're super hungry. 
The best way to combat binging from starvation mode is to make a plan of action so that you have healthy, satisfying foods available throughout the day. Keep healthy snacks that you love everywhere! Keep trail mix in your bag, in your car, and in your drawer at work. Keep pre-cut veggies and fruit ready with delicious protein-packed dips like peanut butter or hummus. Plan regular meals that are big enough to keep you feeling energized and amazing.
#2: Be less restrictive around food
Another common trigger that causes binge eating is trying to be too restrictive. Imagine the scenario when you start your day with a lovely fruit smoothie, and then you ignore all of the unhealthy snacks around you at home or work and faithfully eat your salad when you really want a sandwich at lunch. You eat an apple for a snack and have a healthy grilled chicken with veggies ready at home for dinner, but you find yourself pulling into a restaurant to pick up the steak and cheese sandwich with large fries and a soda. If you feel sad, you're more likely to give up and say screw it…
Another scene that I hear commonly is something like "starting on Monday" with a very strict healthy food plan and doing great until, by Friday night, you're starving and diving face first into a plate of nachos with a pitcher of beer at happy hour. 
I've said it before, and I'll keep saying it. Restrictive plans that make you sad don't work. You need to figure out a plan that keeps you healthy AND happy.
#3: Figure out your triggers
Most women I've met with concerns about binge eating find that they have certain triggers that may be able to be avoided. Some of us (myself included) find that certain foods always have us feeling out of control. I find that I do best if I simply don't keep chips in my house. A friend of mine can't moderate ice cream. If you find yourself overeating every single time you're faced with a certain type of food, you may find freedom in letting that food go for good. It's a process, and we talk about it a lot in our nutrition group, but I can tell you from lots of experience that most of us feel such freedom when we finally decide that a troublesome food isn't for us.  
Other triggers can be certain times of the day or people or emotions. You might find that you overeat whenever you're forced to spend time with your aunt, who makes you feel bad about yourself. Or maybe every time you come home from work, you can't stop eating. If you can't figure out a healthy way to handle your emotions or triggering events, counseling can be very helpful.
Note: If you binge eat regularly—at least once a week for 3 months—you may have binge eating disorder. If you feel overwhelmed, we recommend consulting with a doctor, therapist, and/or dietitian for personalized support.
Have you ever struggled with binge eating? Do you have any tips to share that have helped you in your journey?
MORE HELPFUL POSTS FROM REBECCA: 
3 STEPS TO MINDFUL EATING (AND WHY IT HELPS
WILLPOWER AND WEIGHT LOSS: TOP 3 TIPS TO HELP OPTIMIZE YOUR SUCCESS
3 SIMPLE TIPS TO HELP YOU FEEL AND LOOK YOUR BEST THIS SUMMER
HOW TO LOSE WEIGHT 'FAST' (NO CLEANSES OR CRASH DIETS REQUIRED!)
EATING AND EXERCISE: WHAT TO EAT BEFORE, DURING AND AFTER YOUR WORKOUT FOR BEST RESULTS