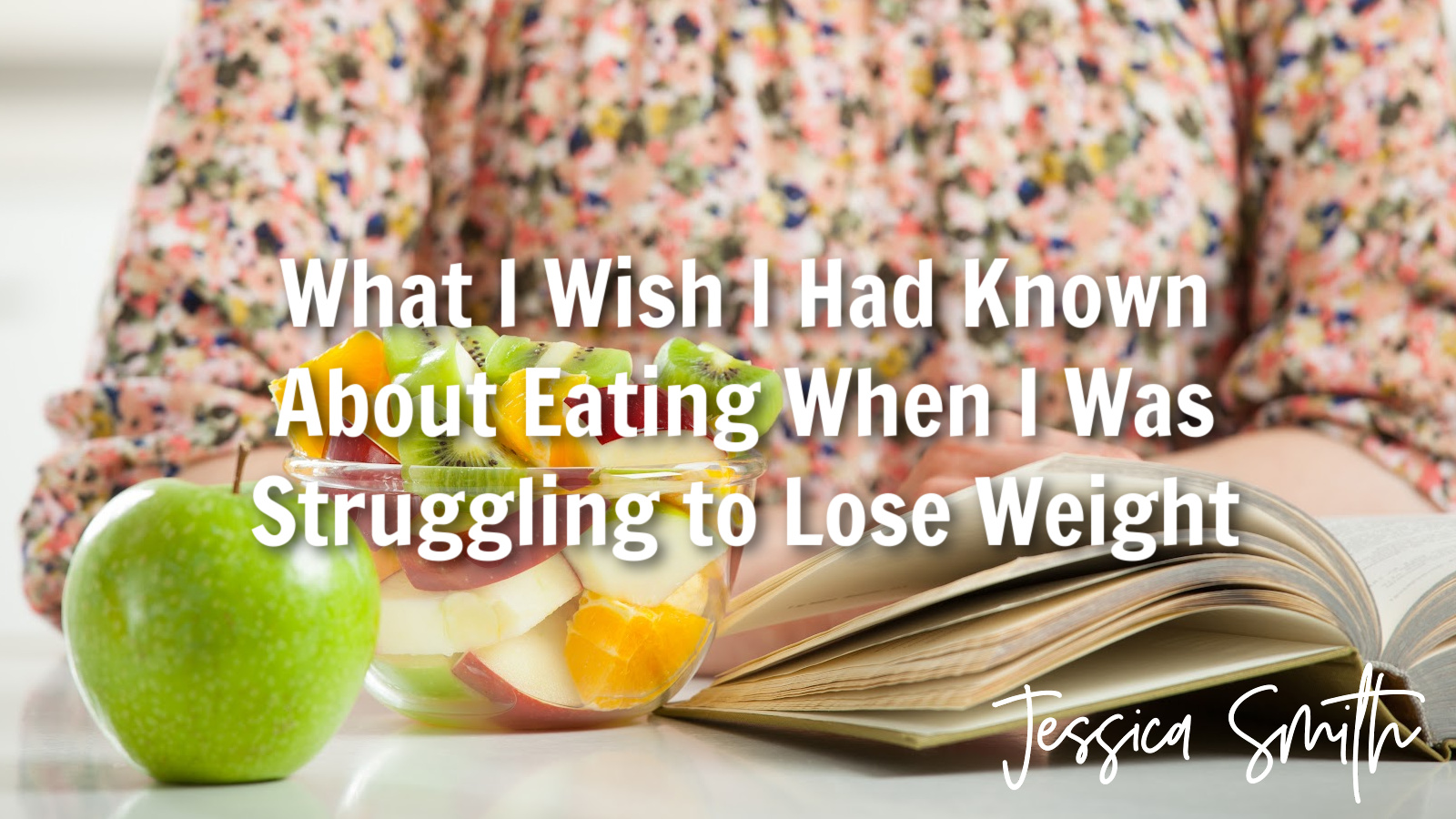 We are excited to share this special guest post from Rebecca the Dietitian! We recognize how much the way you fuel your body influences your exercise results, and are excited to be able to bring you Rebecca's sound eating advice to help you optimize your health, enjoy eating and get the most out of your workouts. We hope you will check out her post below and look forward to learning more from her. If you are in need of more guidance when it comes to nutrition, her comprehensive course, "Nourished & Fit" teaches you everything you need to know in order to lose weight, increase your energy, and balance your hormones (while enjoying delicious food of course)! Along with the course you will be invited to monthly group calls and a private Facebook community of amazing, supportive women. Please check out this link here to learn more (be sure to use the code 'JSTV' for a 30% discount).
Fun fact:  I started dieting in the 3rd grade.  My doctor told me that I should weigh myself every week and if I gained weight I should simply eat less.  
This weekly weighing and food tracking progressed to fad dieting, body dysmorphia, disordered eating, hiding weight loss shakes in my closet in high school, and a series of failed weight-loss attempts.
I was so frustrated with food, my lack of will-power, and my body.  I felt like a failure.
Now, many years and a lot of real science research later I have learned to successfully maintain a healthy lifestyle and a stable weight while enjoying my food and my life and I am committed to help other women do the same.
Here are a few things I wish I had known while I was struggling to lose weight:
#1: You can absolutely enjoy healthy carbs.  
Not only can you enjoy carbs, but I maintain that for long-term success most of us really must learn how to incorporate them.  Low carb diets are not sustainable lifestyle plans for most people.  
Giving up all carbohydrates makes most of us sad.  The opportunity to include foods like brown rice and sprouted bread makes us happy.  We love sandwiches.  We love tacos.  We need to be able to enjoy a variety of foods that help us enjoy life.
Healthy whole grain carbohydrates provide energy, vitamins, minerals, antioxidants, and phytochemicals that help balance your hormones, fight cravings, give you energy, and keep you feeling full & satisfied.
RELATED: 3 REASONS DIETING IS SLOWING YOUR WEIGHT LOSS
#2: It doesn't have to be complicated.
Figuring out a simple, healthy routine that you love is a game changer.  There are so many fad diet programs out there that over-complicate healthy eating.  They make you think that you have to combine certain foods at certain times or eat in cycles or track every macro.  They make you feel like if you don't spend the entire weekend trying to find odd ingredients and then food prepping for hours you will never succeed.
The truth is, if you figure out which healthy foods make you feel great, eating at whatever times you like, that will be the baseline for your own personal healthy plan.  And when you have your own healthy routine that you love, your overall stress will go down significantly.  Food shopping and prep becomes simple.  There's no need to make healthy eating complicated.
RELATED: THE BEST STRATEGY FOR LONG-TERM WEIGHT LOSS SUCCESS
#3: Consistency is key.
One of the biggest obstacles that I see when it comes to achieving long-term weight loss is people giving up when they hit a plateau or a challenge.  So many times I hear about people who are losing weight in a healthy way get frustrated with slow progress and either completely give up or switch to a fad diet.  Either way these people often end up heavier than when they started and feeling hopeless.  
The reality is that if you are on a reasonable, healthy plan that's right for you and your body, you will lose weight slowly and steadily (often ½ to 2 pounds per week at first and that weight loss will slow down as you get closer to your goal weight).  Your body will also often temporarily pause your weight loss as it adjusts to new weights.  If you can get yourself to keep on going and trust the process, you will see long-term progress and your weight loss is much more likely to be permanent.
RELATED: COOKING FOR ONE: HEALTHY MEAL IDEAS FOR WHEN YOU ARE DINING SOLO
Considering goals other than simply weight loss can be very helpful when you meet up with a plateau.  If you are eating to fight your family history of cancer, or to keep your microbiome healthy and boost your immune system, you are much more likely to stick with your program than if you are simply doing it so you can look better in your shorts this summer.
Finally, a gentle reminder to take the best possible care of yourself because you are amazing (not as a punishment).  Please let us know in the comments the most helpful things you've learned in your health and fitness journey.
Do you have a question or a topic you'd like Rebecca to write about?  We love hearing from you, so please share with us in the comments below!
MORE HELPFUL POSTS FROM REBECCA: 
4 THINGS THAT CAN BLOCK YOUR HEALTHY CHOICES (AND HOW TO OVERCOME THEM)
TOP 4 NUTRITION SHIFTS TO MAKE THIS YEAR FOR A STRONGER, HEALTHIER BODY
3 WAYS INTERMITTENT FASTING MIGHT HELP YOU LOSE WEIGHT (AND HOW TO TELL IF IT'S RIGHT FOR YOU)
EATING AND EXERCISE: WHAT TO EAT BEFORE, DURING AND AFTER YOUR WORKOUT FOR BEST RESULTS