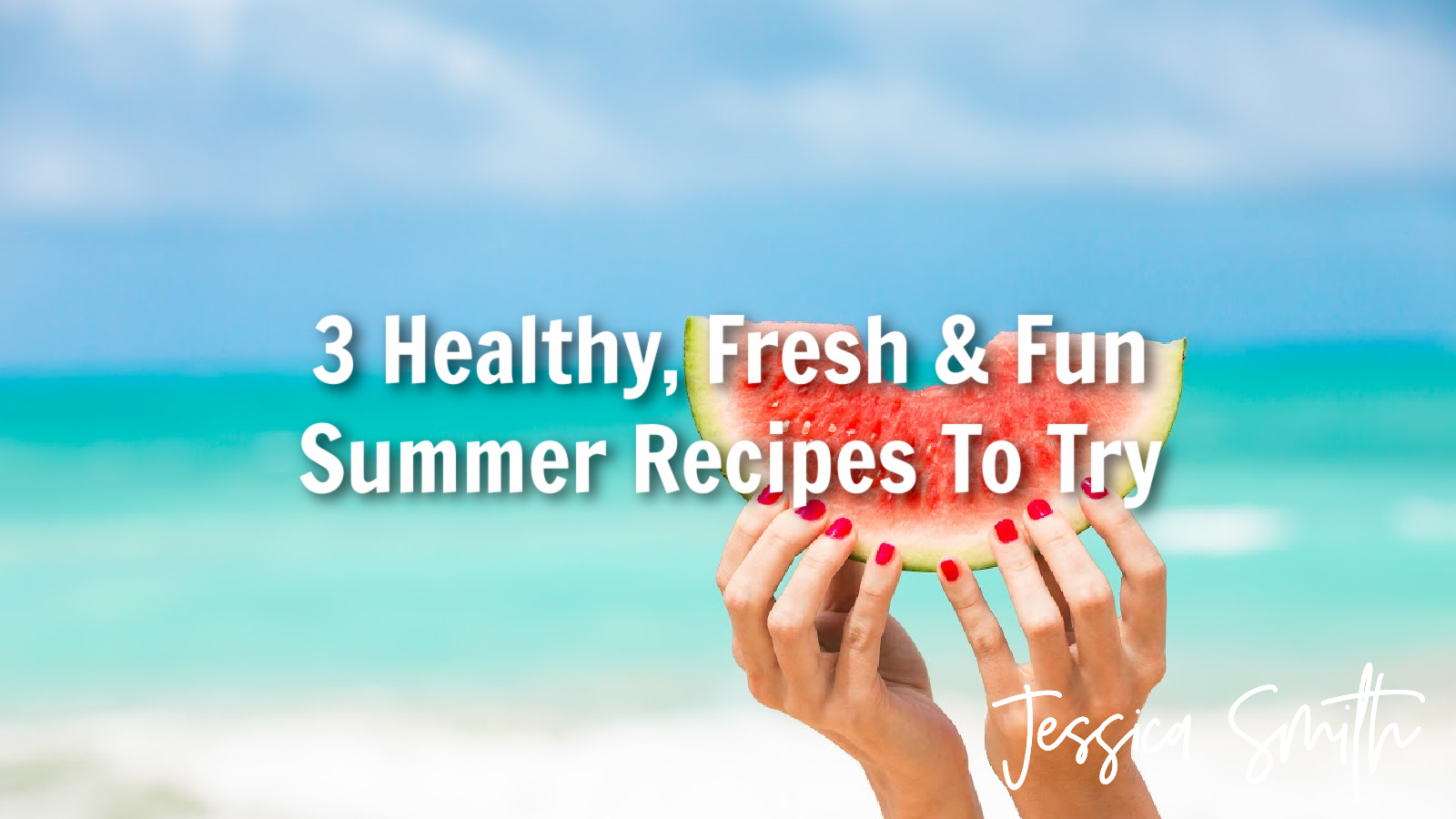 We are excited to share this special guest post from Rebecca the Dietitian! We recognize how much the way you fuel your body influences your exercise results, and are excited to be able to bring you Rebecca's sound eating advice to help you optimize your health, enjoy eating and get the most out of your workouts. We hope you will check out her post below and look forward to learning more from her. If you are in need of more guidance when it comes to nutrition, her comprehensive course, "Nourished & Fit" teaches you everything you need to know in order to lose weight, increase your energy, and balance your hormones (while enjoying delicious food of course)! Along with the course you will be invited to monthly group calls and a private Facebook community of amazing, supportive women. Please check out this link here to learn more (be sure to use the code 'JSTV' for a 30% discount).
It's getting hot out there!  Summer is my favorite season because of the bounty of amazing fresh healthy foods available.  It's a great time of year to head to the produce section of your favorite store and pick up a variety of fruits and veggies that you haven't tried in a while (and maybe one or two that you've never tried).  Have fun with it!  
Here are a few recipes that we hope will help with your inspiration:
Refreshing Mint Lemon-Limeade  
I was visiting St. Louis (such a fun city by the way) and my friend and I found the most amazing healthy restaurant.  One of my favorite things there after a hot day of sightseeing was the minty lemon-limeade, so I had to try to recreate it when I got home.  Here's what I came up with, and it is pretty darn close!
(Makes 2 Servings): 
Ingredients: 
Juice of 1 large lemon

Juice of 1 lime

4 large fresh mint leaves

1.5 cups cold water

2 Tbsp maple syrup
Directions:
Blend all ingredients and enjoy over ice (or cut back on water and blend with some ice to make it extra cold and refreshing!)
Sweet and Savory Watermelon Salad
I first tasted a savory watermelon salad about 10 years ago and have been playing with variations ever since.  It doesn't get much better than a cold slice of watermelon by the pool, but this recipe takes it up another notch.
(Serves 4-6)
Ingredients:
1 small seedless watermelon, rind removed and cut into cubes

¼ red onion, thinly sliced

⅓ c fresh mint, chopped

½ cup marcona almonds (or slivered almonds if you prefer)

Balsamic Glaze *

Kosher salt and freshly ground pepper
Directions:
Arrange watermelon and onion on a large platter. Sprinkle almonds and mint over the top and drizzle with the balsamic glaze. Season with salt and pepper and serve immediately.
*Tip: you can buy balsamic glaze or you can make it yourself by heating up ⅔ cup balsamic vinegar and 1 Tbsp maple syrup in a small saucepan over medium-high heat until it comes to a boil. Then continue cooking it until it has reduced to a syrup thickness, about 5 minutes. (It will thicken as it cools.) 
Broccoli Pasta Picnic Salad
Who doesn't love a good pasta salad at a picnic?  This one packs in filling fiber and hormone-balancing nutrients with the extra veggies and nourishing dressing (bonus points for whole grain or bean-based pasta).   This salad is great served cold and can be stored in the refrigerator for up to 2 days.
(Serves 4 to 6)
Ingredients:
4 cups bite sized broccoli florets

2 cups pasta (I like whole wheat spirals for this, but choose your favorite)

1 cup grape tomatoes

4 sun-dried tomatoes, chopped

8 fresh basil leaves, thinly sliced

¼ cup pine nuts
Creamy Lemon Dijon Dressing 
3 tablespoons tahini

3 tablespoons lemon juice

4 tablespoon white wine vinegar

1 tablespoon Dijon mustard

1  tablespoon maple syrup

½ teaspoon sea salt

3 tablespoons water
Directions:
Whisk all of the Lemon Dijon Dressing ingredients together and set aside.  Boil the broccoli for 2 minutes and pour into a strainer, rinsing immediately under cold water.  Boil the pasta per package directions in salted water until slightly al dente (cooked but still firm) and rinse in a strainer with cold water.  Toss the broccoli, pasta, tomatoes, and basil with the dressing.  Season to taste with salt and pepper.  Top with pine nuts. 
We hope that these recipes make your summer a bit more fun.  Please let us know if you try them!  We would love to connect with you on social media, so be sure to tag us with your beautiful pics.  For more nourishing recipes to help you get healthy the fun way, check here to learn about my Nourish Program.
MORE HELPFUL POSTS FROM REBECCA:
4 NUTRITION TIPS TO HELP YOU GET THE MOST OUT OF STRENGTH TRAINING (EVEN WITH A BUSY SCHEDULE)
EATING AND EXERCISE: WHAT TO EAT BEFORE, DURING AND AFTER YOUR WORKOUT FOR BEST RESULTS
TOP 4 NUTRITION SHIFTS THIS YEAR FOR A STRONGER, HEALTHIER BODY
3 WAYS TO CURB EMOTIONAL EATING
TOP 3 NUTRITION MYTHS YOU STILL BELIEVE THAT ARE KEEPING THE SCALE STUCK
3 REASONS TO STOP LABELING FOOD AS 'GOOD' OR 'BAD'
3 REASONS DIETING IS SLOWING YOUR WEIGHT LOSS