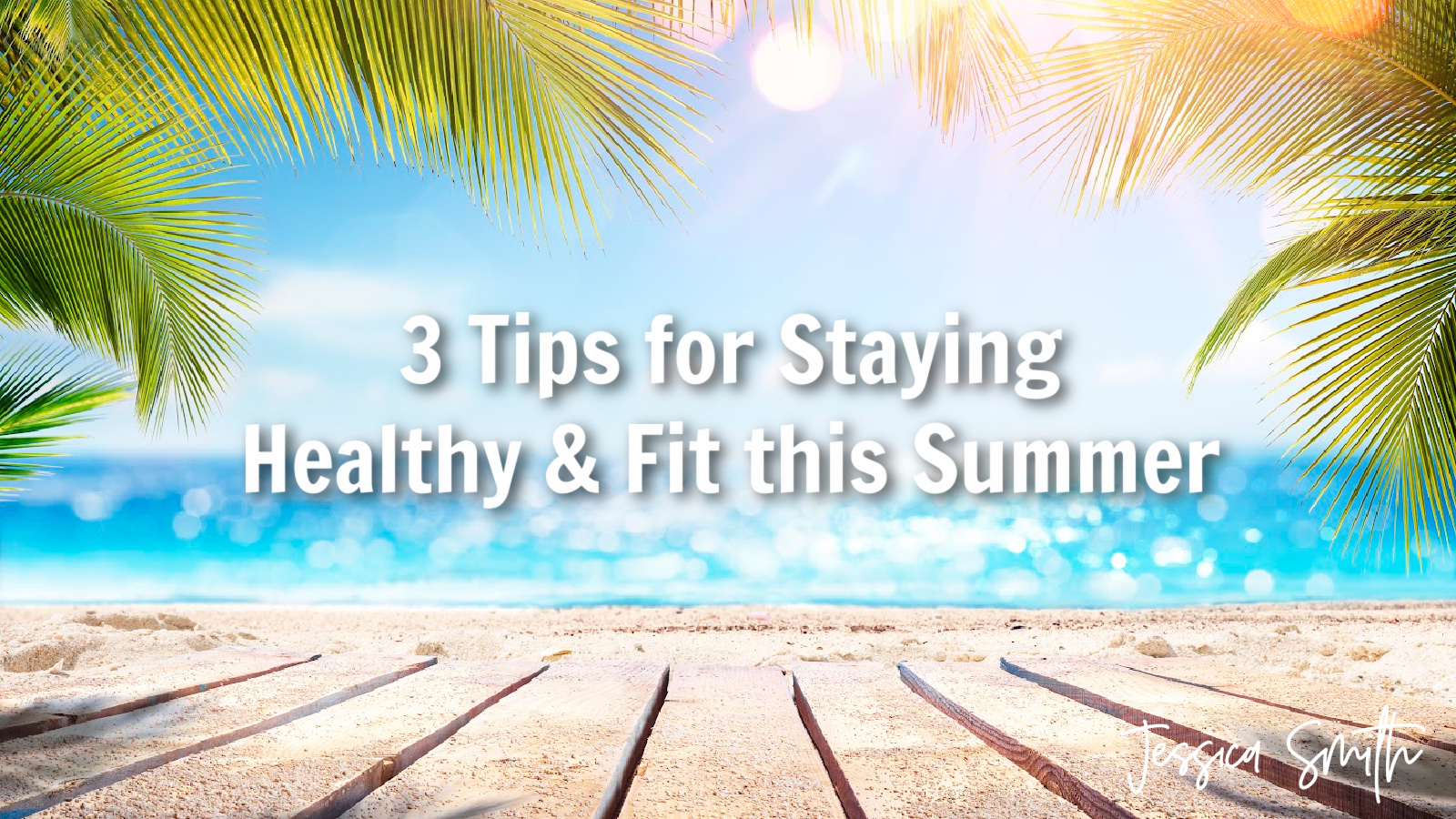 We are excited to share this special guest post from Rebecca the Dietitian! We recognize how much the way you fuel your body influences your exercise results, and are excited to be able to bring you Rebecca's sound eating advice to help you optimize your health, enjoy eating and get the most out of your workouts. We hope you will check out her post below and look forward to learning more from her. If you are in need of more guidance when it comes to nutrition, her comprehensive course, "Nourished & Fit" teaches you everything you need to know in order to lose weight, increase your energy, and balance your hormones (while enjoying delicious food of course)! Along with the course you will be invited to monthly group calls and a private Facebook community of amazing, supportive women. Please check out this link here to learn more (be sure to use the code 'JSTV' for a 30% discount).
How's your summer going? I hope that you are enjoying the weather and making the most of this season. This month we wanted to share some top tips for staying healthy and fit during the warmer months.
Fit Tip #1: Stay Hydrated
I know you may hear this all the time from every health guru, but that's because it's very important. Hydration can impact everything from hormone balance, proper nervous system function, and weight management! Without proper fluid intake your cells can't function properly, and since your body is made up of cells you can imagine that this is something to pay attention to. As a baseline goal you can take your body weight and divide by 2 and shoot for that many ounces of water each day (unless you have a medical condition that alters your fluid allowances). For example, if you weigh 180 pounds you can shoot for 90 ounces of water daily.  During the summer months if you are exercising outside and sweating a lot you should compensate with an extra glass or two of water. If you are excessively sweating, consider also replacing your electrolytes with some fruit and salt. Some hot weather athletes eat pickles for sodium and replenish potassium with bananas or coconut water for potassium. You can also replace both sodium and potassium by eating salted watermelon or salted avocado.
Fit Tip #2: Spend Time in Nature
Take advantage of the nice weather and plan some time outdoors.  Studies show that time in nature (this includes urban parks or basically anywhere with grass and plants) can dramatically improve your health.  Outdoor time can help you manage stress, improve your hormone balance, assist with weight management, improve your immune system, and improve your mood.  Experts recommend at least 2 hours each week, so plan some fun outdoor activities with your friends, family, or make a date with yourself.  You can walk, do yoga, picnic, or simply sit on a park bench and relax- it all counts.
Fit Tip #3: Enjoy Seasonal Produce
This is a fun time of year because in most areas there are a lot of local fresh produce options that may not be available (or as tasty) during other months.  Melons, berries, cherries, corn, tomatoes, carrots, broccoli, and summer squash are all amazing in North America and Europe in the summer.  These delicious fruits and veggies are packed with fiber and nutrients that will help nourish your body, boost your immune system, and optimize hormone balance to keep you healthy, fit, and feeling your best while you enjoy your fun summer activities!
Whatever your summer plans are, we hope that you are taking the best possible care of yourself and living your best life! 
What are your best tips for staying healthy and fit in the summer months?  We would love to hear, please share with us in the comments below! 
MORE HELPFUL POSTS FROM REBECCA:
4 NUTRITION TIPS TO HELP YOU GET THE MOST OUT OF STRENGTH TRAINING (EVEN WITH A BUSY SCHEDULE)
EATING AND EXERCISE: WHAT TO EAT BEFORE, DURING AND AFTER YOUR WORKOUT FOR BEST RESULTS
TOP 4 NUTRITION SHIFTS THIS YEAR FOR A STRONGER, HEALTHIER BODY
3 WAYS TO CURB EMOTIONAL EATING
TOP 3 NUTRITION MYTHS YOU STILL BELIEVE THAT ARE KEEPING THE SCALE STUCK
3 REASONS TO STOP LABELING FOOD AS 'GOOD' OR 'BAD'
3 REASONS DIETING IS SLOWING YOUR WEIGHT LOSS